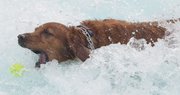 Plans to spend the holiday weekend in the city's outdoor swimming pool will need to be adjusted.
The Lawrence Outdoor Aquatic Center, 727 Ky., won't be ending the summer pool season with a big splash. The start of school coupled with a busy holiday weekend and KU football's home opener has forced the city to close the pool today.
"We try to bulk up on our staff for the weekend," said Aquatic Supervisor Lori Madaus, "but this year it didn't happen."
High school and Kansas University students make up about 95 percent of the pool's staff. Lifeguard Logan Marienau, a KU senior, said finding time to work is "just a little bit more tough with school." Marienau has been a lifeguard for four years and said he hasn't experienced staffing issues during Labor Day weekend in the past.
Nevertheless, a shortage of lifeguards presents a safety concern. "We want to make sure that our staff is here and vigilant," said Madaus, "to make sure there are no drownings, no incidents or injuries."
The Outdoor Aquatic Center will reopen Sunday and Monday. Hours will be 1 p.m. to 8:45 p.m. both days. Monday will be the last day the pool is open to the public. The city's Indoor Aquatic Center, 4706 Overland Drive, will be open today. Its hours are 9 a.m. to 7:45 p.m. for lap swimming and 1 p.m. to 7:30 p.m. for recreational swimming.
The city also will have its annual Pooch Plunge at the outdoor pool from 4 p.m. to 7 p.m. Tuesday. That event allows residents to bring their dogs to the pool for a swim.
Copyright 2018 The Lawrence Journal-World. All rights reserved. This material may not be published, broadcast, rewritten or redistributed. We strive to uphold our values for every story published.