Hundreds of Haskell Indian Nations University students filled the school's theater Tuesday afternoon for convocation, celebrating the start of a new school year.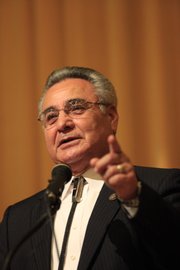 "This university has maintained excellence and I know that you will too as a student throughout the school year," regents President George Tiger told the group.
The motivational speeches were perhaps especially relevant this week, after a recent U.S. Department of Education report revealed that Haskell has one of the lowest graduation rates in the country, at 9 percent. The details were released in Washington Monthly's list of 50 four-year public and private not-for-profit colleges with low graduation rates.
The keynote speaker to address the students Tuesday was Lieutenant Governor of the Chickasaw Nation Jefferson Keel. He's also the president of the National Congress of American Indians.
He told the group about his experience as a student. He graduated from high school at the age of 16 and headed off to basic training for the National Guard the next day.
"I couldn't wait to get away from school," Keel said.
He went on to describe how he excelled in the military but was left wondering what life had to offer him next. He decided to go to college and fully embrace the gift of a good education.
He encouraged Haskell students not to give up, even when they're homesick or simply feel frustrated with the process.
"I encourage you to talk to someone who can help you when you get discouraged," Keel said.
Keel didn't specifically address the DOE report, but indicated that finishing what you start is important.
"If you don't do it for anyone else, do it for yourself; once you commit and apply yourself to your studies, you'll find that it will be a lot easier," Keel said.
Other speakers included Patrick Freeland, student senate president, and Chris Redman, acting president of Haskell.
Haskell officials say they are committed to improving the graduation rate with a new success center to open in October.
Copyright 2017 The Lawrence Journal-World. All rights reserved. This material may not be published, broadcast, rewritten or redistributed. We strive to uphold our values for every story published.