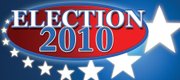 Find detailed candidate profiles, campaign finance information and complete election coverage in our Election Guide.
-->
It has been a near constant theme in the library campaign: Lawrence's library doesn't meet state accreditation standards because it has too few computers.
The issue may not be that black and white.
A review of accreditation standards from the Northeast Kansas Library System found a range of accreditation standards the Lawrence Public Library could seek, but library leaders have chosen the highest level, which is designed for libraries that provide service on a "regional and statewide basis."
That level, called a Major Resource Library, requires 150 public access computers, regardless of the size of community the library is serving.
Lawrence library leaders could choose to meet the standards in the category just below the top level. That level, called a Level III Major Service Center, is defined as a library that serves the "community and a broad surrounding area." Those standards require at least 36 public-access computers. The Lawrence library currently has 52 public access computers.
Bruce Flanders, director of the library, said he is confident that Lawrence belongs in the top category.
"For us to settle for anything less than a major resource library is totally unacceptable," Flanders said.
Jim Minges, director of the Northeast Kansas Library System and author of the accreditation standards, agreed.
"It absolutely is the right category," Minges said. "It is probably the fifth largest library in the state. It would be strange for them not to be in this category."
Lawrence, though, is the smallest of the state's public libraries that likely would be considered for the top category, Minges said.
Flanders said Lawrence's library does serve a statewide role. He said libraries from across the state use Lawrence's collection through the interlibrary loan program. He said it is important for Lawrence to remain in the top category because the library should be held to high standards.
"To me, our ability to have a collection that is of such value that other libraries wish to borrow materials from us is an important benchmark," Flanders said. "That is an indicator that we are providing a quality service to our community."
A change in categories also likely would mean less grant funding. Major Resource Libraries qualify for up to $56,700 in grant money from the Northeast Kansas Library System. A Level III Major Service Center qualifies for a maximum of $29,175.
Although the accreditation standard for computers isn't based on a population formula — such as one computer per every 1,000 residents — an analysis of Lawrence's computer numbers showed the library is near the bottom of the list.
According to statistics from the State Library of Kansas, Lawrence's computers-per-capita ratio ranks ninth out of the 10 libraries that serve an area of at least 40,000 people. Lawrence has one computer per every 1,847 residents. Topeka tops the list at 1 per 916 people. Wichita is last at 1 per 5,383 people. The average for the 10 was 1 per 1,558. Excluding Wichita, which had a ratio about five times the others, the average was 1 per 1,240.
If Lawrence's expansion is approved and the number of computers grows to 150, Lawrence will skyrocket to the top of the list with 1 computer per every 603 residents.
Flanders said he would look forward to such a jump, especially considering that the library currently has to limit the amount of time users can spend on a computer.
"I am confident that if we made that large of an advancement, we would not see idled computers strewn throughout the library," Flanders said. "My experience is that as you add services in this community, they are used."
Copyright 2018 The Lawrence Journal-World. All rights reserved. This material may not be published, broadcast, rewritten or redistributed. We strive to uphold our values for every story published.