As Lawrence High junior Zach Andregg sprinted toward the finish line, he noticed his good friend, Free State High junior Kain Anderson, among those just ahead of him.
Photo Gallery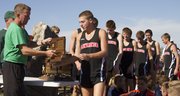 High school state cross country meet, 2010
Andregg knew it was time to pick up the pace.
"If it wasn't for him, I wouldn't have passed at least two other guys," he said.
Andregg finished 18th in the Class 6A boys race (16:34:60), not quite fast enough to catch Anderson (10th place, 16:26:40) or FSHS senior Logan Sloan (15th place, 16:29:40).
Collectively, though, the Lions showed their strength down the stretch to earn a third-place team finish at the 2010 Cross Country State Championship on Saturday at Rim Rock Farm.
"I was really proud of the way they finished," LHS coach Brian Anderson said. "We had three (personal records) and one season-best in the boys, one (personal record) in the girls."
The Firebirds placed ninth, and no runner other than Anderson or Sloan finished ahead of a Lion runner.
"Crazy things always happen at state," said Kain Anderson, who set a personal record in the 5K.
The LHS girls finished 11th as a team, headlined by sophomore Grace Miller's 30th-place finish (16:29:10) and junior Michala Ruder's 41st-place finish (16:43:70).
Many runners — though none from LHS or FSHS — in both the boys and girls races collapsed after crossing the finish line; some had to be carried away to receive medical attention.
But there was no mistaking the fact the Lions and Firebirds were exhausted following the race.
"I thought all of our runners left it all out there today," coach Anderson said. "They went out and ran the best they could."
Miller was able to finish strong for the third straight time at Rim Rock despite what she described as intense competition.
"It was hard to keep up and stay determined and confident," Morgan said.
Though the Firebirds failed to qualify for state as a team at regionals last weekend, FSHS junior Lynn Robinson still managed an impressive 14th-place finish at 16:13:60.
Robinson, who practiced with the boys all week in preparation, said it was a lonely feeling to look on both sides at the starting line and see nothing but unfamiliar faces.
"You don't realize how much of a team sport cross country is until you don't have the girls there," she said.
No one learned that lesson more than Anderson, Sloan and the Firebird boys, who hoped for the best as they waited for the results to be tallied.
"I don't know right now," Anderson said, asked about how he thought the results would shake out. "But either way, we did awesome today. I'm so proud of the guys on this team. We've worked so hard all year long."
Anderson added that he was smiling throughout the race.
"I started off and just told myself I was going to have fun today," Anderson said. "We're here, we're at state – what else is there?"
In the Class 5A events, the Mill Valley boys team placed fifth in the team standings, paced by junior Connor Mehalocich's 15th-place finish at 17:08:70.
Junior Kelsey Wakefield, the only Mill Valley girls runner competing, was 56th at 17:47:90.
With the cross country season now over, the runners finally can kick off their shoes and take a break.
"I don't think I'm going to run for a while," Andregg said with a laugh.
Copyright 2018 The Lawrence Journal-World. All rights reserved. This material may not be published, broadcast, rewritten or redistributed. We strive to uphold our values for every story published.