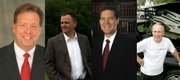 Tom Holland, Andrew Gray, Sam Brownback and Ken Cannon ran for Kansas governor in the 2010 election.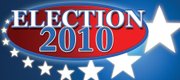 Find detailed candidate profiles, campaign finance information and complete election coverage in our Election Guide.
Topeka — A series of strange events has put Republican Sam Brownback and Democrat Tom Holland before voters in the 2010 race for governor of Kansas.
Brownback, 54, has voted the social conservative way for 16 years in Congress, tried a run for president, and now wants to lead Kansas as its chief executive.
Folks who oppose abortion and gay-rights initiatives expect to find a friend in the governor's mansion should Brownback win.
For his part, Brownback, currently a U.S. senator, says that he'll wait to see what the Legislature produces in those areas, but that he wants to focus on growing the economy, holding down taxes and fighting the federal health reform law.
"You can neither tax nor cut your way out of these problems. You have to grow your way out," Brownback said.
Holland, a Democratic state senator from Baldwin City and owner of an information technology consulting company, threw his hat in the ring after more prominent Democrats decided not to run.
Holland, 49, has said if elected he will continue to work with a bipartisan group of Democrats and so-called moderate Republicans that has held a slim majority on major issues in the Kansas Legislature.
During the past few years, the bipartisan group initially increased education funding, then controlled the pace of budget cuts as the state fell into recession. During the last legislative session, the group passed a three-year 1-cent state sales tax increase that supporters said was needed to prevent permanent damage to schools, public safety, social services, and helped fund a new highway program.
"I understand the problems facing our state, and I am the only candidate who will put politics aside and bring people together to find solutions," Holland said.
Confident of victory?
Brownback enjoys higher name identification and a much larger campaign war chest. From July 23 through Oct. 21, Brownback spent $1.4 million to Holland's $395,000 on the campaign trail.
Brownback has lashed his campaign to a series of policy proposals that he calls "Road Map for Kansas." He seldom strays off the map and seldom responds to criticism from Holland.
Perhaps confident of victory, Brownback named a fellow conservative — state Sen. Jeff Colyer, R-Overland Park — to be his lieutenant governor running mate, rather than chose someone more politically moderate to balance the ticket.
Holland picked state Sen. Kelly Kultala, D-Kansas City, for the lieutenant governor slot.
What little polling has been done shows Brownback with a significant lead.
Education funding
The major fight during the campaign has been over education funding.
Brownback has said he wants to overhaul the school finance formula but hasn't said what changes he would like to make. Instead, he has said, he wants to bring the various sides together and try to provide leadership on the issue. One of his goals, he said, is to make sure more state funds are spent on classroom instruction.
Democrats have noted that Brownback is closely aligned with legislators who have fought against both school funding increases and measures to make the formula more equitable to all school districts. Holland has said that the current finance formula is fine and that it needs to be adequately funded.
Holland said when Brownback talks about giving local school districts more authority in funding their schools, that means higher local property taxes and greater disparity in educational opportunities between poor and rich districts.
Holland has signed a pledge not to cut any more from public schools and has said he will increase school spending as the economy improves.
Brownback has said he will freeze state spending, but hasn't said how that will impact public schools. Holland has said Brownback's freeze will result in a cut to schools because it wouldn't replace federal stimulus funding used for education that will expire next year.
Controversial ties
Another fight between the two candidates developed over Brownback's ties to Lou Engle, a controversial minister who has gained a reputation for his opposition to gays and abortion.
Brownback has worked with Engle on some issues and even lived with him for awhile in Washington, D.C.
Earlier this year, Engle went to Uganda while that country was considering legislation that could have resulted in the death penalty for some gays. Engle's critics said Engle praised those legislators who were pushing for that law. Engle has said his position was misunderstood.
In December, Brownback participated with Engle in a "PrayerCast" in which participants prayed against the passage of federal health care reform. Brownback has also spoken at rallies with Engle, and Engle had once said that Brownback would become president.
Holland has called on Brownback to denounce Engle. Brownback has said that he disagreed with some of Engle's statements and that he hadn't spoken to Engle for several months. Brownback said in the past he worked with Engle on measures that called for apologies for the treatment of Native Americans and African-Americans.
The Tom Holland story
Holland runs an information technology consulting firm.
In politics, Holland, who describes himself as a moderate, defeated a Republican incumbent in 2002 to win a House seat and then another Republican incumbent in 2004 to win the Senate seat.
Holland grew up in Indiana and earned an undergraduate degree from Indiana University. He later received a master's in business administration from the University of Minnesota.
In 1991, he came to Kansas to manage an IT project and when that job ended, he decided to stay here and start his own company, Holland Technologies Inc.
Holland said he and his wife, Barbara, saw Kansas as a place of opportunity to raise their family. They have four children.
The Sam Brownback story
Brownback grew up on a Linn County farm. He was state president of Future Farmers of America, student body president at Kansas State University and president of his class at Kansas University's law school.
He served as a White House fellow in the first Bush administration and was secretary of agriculture in Kansas. He was elected to the U.S. House from the 2nd Congressional District in 1994 and in 1996 was elected to the U.S. Senate seat once held by Bob Dole, who had resigned his seat to run for president.

In 2007, Brownback ran for the Republican Party nomination for president, but received little support and bowed out later in the year. He and his wife, Mary, have five children.
The two other candidates in the race are Libertarian Andrew Gray of Topeka and Reform Party candidate Ken Cannon of Andover.
Copyright 2018 The Lawrence Journal-World. All rights reserved. This material may not be published, broadcast, rewritten or redistributed. We strive to uphold our values for every story published.