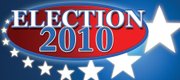 Find detailed candidate profiles, campaign finance information and complete election coverage in our Election Guide.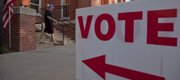 Chris Biggs, Kris Kobach, Phillip Horatio Lucas and Derek Langseth are running for Kansas Secretary of State.
Topeka — Kansas Secretary of State Chris Biggs, a Democrat, and his Republican challenger, Kris Kobach, clashed over the issue of voter fraud Saturday during a debate.
The two candidates, engaged in a heated battle before Tuesday's election, spoke before about 80 people at a forum hosted by the Kansas League of Women Voters.
Kobach has made allegations of widespread voter fraud in Kansas the foundation of his campaign, and is pushing for laws that would require a photo ID to vote and proof of citizenship to register to vote.
"There is a serious problem of voter fraud in Kansas," Kobach said.
Biggs said the facts don't support Kobach's claim.
"He has been loose with the facts, he has been misrepresenting statistics, and on some he has just been plain wrong," Biggs said.
Biggs hammered Kobach for alleging there were 1,966 dead Kansans on the voter registration rolls, and for Kobach, at a news conference on Thursday, singling out the name of a voter -- Alfred K. Brewer of Wichita -- as a possible example of someone who had died in 1996 but voted in 2010. It turned out Brewer is alive and an active voter.
Biggs said the allegation by Kobach was part of an established pattern of Kobach being "sloppy" with facts.
Kobach read from a secretary of state's office memo that outlined 75 allegations of voter irregularities. If the problems continue to increase, Kobach said, "You will see `I voted' stickers on tombstones."
Biggs said Kobach was taking the memo out of context. Those 75 instances occurred over a 10-year period. As a former Geary County prosecutor, Biggs said he prosecuted 20,000 cases, which included one for voter fraud.
He said Kobach was using fear tactics in combining his advocacy against illegal immigration with voter fraud. Kobach, an attorney, has worked with numerous states and cities on controversial immigration laws, including Arizona.
"Immigration is his deal, bless his heart," Biggs said. "But his heart is not here in Kansas."
Kobach said requiring a photo ID to vote would solve fraud problems and make elections run more efficiently. He said only the "radical fringe" opposes a photo ID law.
But Biggs said the problem with photo ID is it provides obstacles to voting for some segments of the population, such as the elderly and those with disabilities.
Kobach criticized Biggs over a recent television ad that provides information about advance voting and then shows a picture of Biggs.
He said Biggs' image shouldn't have been used in a taxpayer-funded ad this close to the election.
"This is an abuse of power," Kobach said.
Biggs responded that the ad was standard fare for officeholders and there was nothing inappropriate.
During the debate, Biggs also mentioned a complaint filed against Kobach by the Kansas Democratic Party that alleges Kobach violated the state's campaign finance laws by taking several donations over the legal limit. Kobach denied the allegation, but said there were some problems with "typos" in his campaign finance report that, he said, were being corrected. Kobach said filing campaign finance reports was a "very complicated process."
Copyright 2018 The Lawrence Journal-World. All rights reserved. This material may not be published, broadcast, rewritten or redistributed. We strive to uphold our values for every story published.