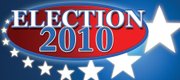 Find detailed candidate profiles, campaign finance information and complete election coverage in our Election Guide.
On the street
Yes.
Topeka — Less than half of Kansas' registered voters are expected to cast ballots in Tuesday's general election, and the total may be lower in Douglas County, election officials said Friday.
Secretary of State Chris Biggs predicted a 47.5 percent statewide turnout, or 820,000 of Kansas' 1.7 million registered voters.
Turnout for the 2006 and 2002 midterm elections was 52 percent, and it was 50 percent in 1998, the office reported.
As of Friday morning, 191,083 advance ballots had been mailed to voters and 126,119 had been returned and 53,284 had been cast at satellite voting locations.
Douglas County Clerk Jamie Shew was predicting a 43 percent turnout, which would be lower than the county's 45 percent in 2006; 57 percent in 2002 and 47 percent in 1998.
"Student turnout is a large portion of my database, and we've seen very little activity on the campuses, very little registration and advance voting," Shew said.
The Missouri secretary of state predicted a 51 percent turnout in that state, prompting Biggs to challenge Kansas voters to try to exceed that prediction.
Election Day is Tuesday. Advance voting in person ends noon Monday.
Copyright 2018 The Lawrence Journal-World. All rights reserved. This material may not be published, broadcast, rewritten or redistributed. We strive to uphold our values for every story published.