500 block of Locust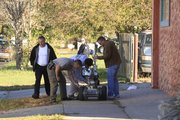 Officers from multiple agencies conducted an investigation Thursday at a home in the 500 block of Locust Street in North Lawrence after a man was arrested there on suspicion of absconding from his parole.
"No one was ever in any danger at all except for the officers inside the house," said Sgt. Matt Sarna, a Lawrence police spokesman.
Multiple Lawrence police vehicles and a mobile command center converged on the house, 512 Locust St.
Thursday morning, U.S. marshals arrested Joshua Sexton, 26, Leavenworth, at the house. Sexton had been paroled after a 2005 conviction for aggravated indecent liberties with a child in Leavenworth County, but he absconded, according to the Kansas Department of Corrections.
During that arrest, Sarna said, officers believed they saw drug paraphernalia, possible drugs and a small explosive device. So police obtained a search warrant for the house and called in a bomb squad from Leavenworth County as a precaution.
No one was in the home when police entered it to conduct their search, Sarna said. The Douglas County Sheriff's office also assisted, and Lawrence-Douglas County Fire Medical vehicles were in the area.
As part of the investigation, the bomb squad used a robot inside the house.
Sarna said because the explosive device did not appear to pose a danger to anyone outside the house no one was evacuated from the area.
He said officers would continue to investigate and collect evidence of possible drugs. He did not specify what type of drugs they could be and said anything collected would need to be tested.
Police did notify administrators at nearby Woodlawn School, 508 Elm St., that officers were in the area, Sarna said.
A representative for the school said authorities informed them Thursday morning that they would be investigating nearby and that students, faculty and staff were in no immediate danger.
But the scene did create some tension for some school parents Thursday afternoon.
"It's just bad to have that right across from the school," said Chris Mills, a parent of three Woodlawn children. "I think our police department needs to be more proactive in what they're doing."
Copyright 2018 The Lawrence Journal-World. All rights reserved. This material may not be published, broadcast, rewritten or redistributed. We strive to uphold our values for every story published.