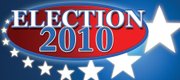 Find detailed candidate profiles, campaign finance information and complete election coverage in our Election Guide.
This Tuesday voters will cast their ballots in the general election. We want you to be informed when you go to the polls, so our web staff has created the 2010 Elections section.
On LJWorld.com/elections2010 you'll find:
Election news — The latest election headlines from local, state and national races
Straw polls — Vote for the candidate you think will win in each race
Ballot measure language — Read the questions in advance
Chat transcripts — We held live chats with 11 candidates
Poll finder application — Plug in your address and this Google Maps-based app gives you your polling location, links for voting in Kansas, absentee ballot info, and a list of the state and national candidates on your ballot. Try it out below.
Judges and ballot measures
Ballot measures wording can be confusing. We've posted the exact language of these questions for you so you can digest them in advance. Ballot measures this election include preservation of the right to bear arms, repealing the authority of the legislature to keep the mentally ill from voting and the Lawrence Public Library expansion proposal.
Do your research on judges, too. Head over to KansasJudicialPerformance.org to see if the judges on your ballot have been recommended for retention.
Tag your tweets
We're monitoring the #lawrencevote hashtag for your election information. When you vote Tuesday, do a poll check and tweet it with the hashtag. We'll post your poll checks in our election day coverage. A poll check includes the following info:
Time of day
Poll location
Number of people who have voted
Is there anything we missed? Let us know in the comments.
Copyright 2018 The Lawrence Journal-World. All rights reserved. This material may not be published, broadcast, rewritten or redistributed. We strive to uphold our values for every story published.