Elizabeth Keller stood up from the crowd of 400 women in Allen Fieldhouse Thursday night and asked the Kansas University men's basketball team a question.
Photo Gallery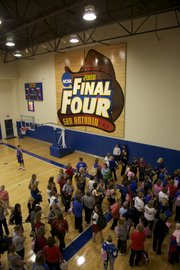 Ladies' Night Out with Bill Self
About 400 women attended the event, which raised money for breast cancer research.
"Do any of you have a superstition? Because this is my mom, she's from Illinois, and she crosses her fingers for the whole game," she said.
Marcus Morris took the microphone.
"I have to talk to my mom before every game," he answered. In response, the audience gave him a standing ovation.
The players and coaches were in the fieldhouse for Ladies' Night Out with Bill Self, a benefit for Jayhawks for a Cure, which supports breast cancer awareness.
Women, such as Elizabeth's mom, Cathy Keller, traveled from as far away as Godfrey, Ill., to take part in the clinic, which raised almost $40,000 to support cancer research and treatment at KU Cancer Center and Lawrence Memorial Hospital.
In a rare night when Allen Fieldhouse wasn't filled to the brim, the women sat in the bleachers, watching Self and his players demonstrate some of the plays the women would see later in the season. Then came question-and-answer sessions with the players and Self and his wife, Cindy.
A tour of the facilities and pictures with players rounded out the night, which Sandra Gautt, a Lawrence resident, called wonderful.
"Self is so committed to the institution of basketball, but also causes like this," said Gautt, who is also on the Lawrence Memorial Hospital Endowment Board.
Cindy Self said she was excited when Bill told her about his idea for the event. She said her mother had been diagnosed with breast cancer about 15 years ago, so the cause was close to home.
"When he said it, I said, 'Yes, that's a great idea,'" she said.
Most of the crowd was full of die-hard basketball fans, or fans-to-be who wanted to learn more about the team.
Marcia Anderson drove from Salina for the event, only four weeks after having knee surgery.
"This is the most fun I've had in years," she said.
Copyright 2017 The Lawrence Journal-World. All rights reserved. This material may not be published, broadcast, rewritten or redistributed. We strive to uphold our values for every story published.