• A previously reported plan to create a BMX bicycle track in Lawrence is moving forward again. Members of a new not-for-profit group — LARRI-BMX — have developed a set of plans to build a BMX racing facility on three to five acres of property they hope will be donated either by the city or county.
A model of the proposed 1,500-foot track, lights and other related facilities is on display at Lawrence Re-Cyclery, 731 N.H.
Brian Shay, owner of the Re-Cyclery and a member of the BMX group, said plans now are to begin having more serious discussions with the city or the county about available land. Shay said a location at YSI might work, but there's also interest in locating the track at the Douglas County Fairgrounds because it may be easier for people to ride their bikes to the facility.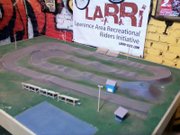 The group — which would like to use the track for local riders and to attract regional racing events — doesn't plan to ask local governments for any funding other than use of property. Previous estimates have been between $50,000 and $100,000 to construct the track, but Shay said the group is hoping to do it for far less through donated dirt and volunteer labor.
• The proposed site for a 600,000-square-foot warehouse for Berry Plastics won easy approval at the Lawrence-Douglas County Planning Commission on Monday night. Commissioners unanimously approved rezoning a site at East 700 and North 1800 roads from agricultural to light industrial. The rezoning now must go to the Douglas County Commission for final approval. Also, look for county commissioners to receive a request for tax abatement from Berry Plastics related to the project.
• Planning commissioners on Wednesday will hear about another proposed industrial site northwest of Lawrence. Commissioners will consider annexing and rezoning 51 acres at North 1800 and East 1000 roads. The property is only about two miles east of the proposed Berry site, but it has attracted significantly more opposition from neighbors. Planning staff members, though, are recommending approval of the rezoning. Unlike the Berry site, the development group is seeking to have the property annexed into Lawrence. It also does not have a specific user for the property, but rather wants it rezoned so the land can be marketed to potential tenants. Also, the site is proposed for general industrial zoning, which is a slightly more intense industrial category than the light industrial sought at the Berry site.
• The days of a chunky monkey on Mass. Street are no more. The ice cream store Ben & Jerry's has closed, according to a sign posted in the window of the store, 818 Mass. The store had been open for five years downtown. No word yet on whether anything is scheduled to move into the space.
What town talk are you hearing. Send me a tip at clawhorn@ljworld.com.
Copyright 2018 The Lawrence Journal-World. All rights reserved. This material may not be published, broadcast, rewritten or redistributed. We strive to uphold our values for every story published.