Bengie Molina gets a ring regardless of who wins this World Series.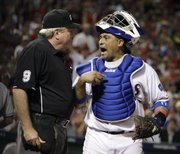 "I don't know how to explain it, but it's going to be a very happy, weird feeling," said Molina, the catcher who was traded from San Francisco to Texas this season. "Just weird because I played there for 31⁄2 years, and to wear another color in that stadium."
Molina has been with the Rangers for only 31⁄2 months, shipped off by the Giants on July 1 to make room for top prospect Buster Posey behind the plate.
Instead of catching two-time NL Cy Young winner Tim Lincecum, Matt Cain, Brian Wilson and the other Giants pitchers he knows so well, Molina faces a more difficult task — trying to hit against them and beat them in Texas' first World Series.
It makes for a strange scenario: Both of Molina's teams are in the spotlight.
"It's going to be a very happy World Series for Bengie Molina," he said. "I'm going to try to enjoy it as much as I can."
Game 1 is Wednesday in San Francisco with a matchup of the 2008 Cy Young Award winners, Lincecum vs. Rangers ace Cliff Lee.
"We're just going to throw it just the same so he can tear us apart," joked Cain, the Giants' Game 2 starter. "We're not going to change our signs either."
This isn't the first time Molina has faced the Giants in a World Series. But his 2002 championship with the Angels came before he played in San Francisco.
"They've been so good at texting and staying in touch," Molina said. "I feel like we're brothers."
The Rangers acquired Molina to help settle their catching situation, and he shares time with Matt Treanor. Molina played 57 regular-season games with Texas and 61 for the Giants.
San Francisco traded Molina soon after promoting Posey, who became the club's cleanup hitter and a leading contender for NL Rookie of the Year.
Texas sent reliever Chris Ray and a minor-league pitcher to the Giants for Molina. Ray could also be in position to get a ring from either team.
"Really for two players to be in that situation, it's unique," San Francisco manager Bruce Bochy said. "Both of them made some nice contributions to both clubs."
Texas began the season with Jarrod Saltalamacchia and Taylor Teagarden behind the plate. Both young catchers were optioned to the minors less than a month into the season, and Saltalamacchia has since been traded.
Texas was already leading the AL West when Molina got there. San Francisco was in fourth place in the NL West, 51⁄2 games behind San Diego, when he left.
Now the two teams meet in a situation Molina never really imagined.
"I think I knew (Rangers) had a great chance to make it to the playoffs," he said. "For both teams to be in the World Series? Not a chance."
The 36-year-old Molina is the oldest of the three Molina brothers who are catchers with championship rings. Jose Molina was Bengie's backup with the 2002 Angels and was with the New York Yankees last season, while Yadier won a title with St. Louis in 2006.
Bengie Molina, who can become a free agent after the season, hit .333 (10 for 30) in 10 playoff games for Texas with two home runs and seven RBIs, including the go-ahead, three-run homer in Game 4 of the AL championship series at Yankee Stadium. He had only five homers during the regular season.
Two weeks after joining the Rangers, the slow-footed Molina became the 15th catcher in major-league history to hit for the cycle. His homer in that game at Boston was a grand slam, and the triple — only the sixth in his 1,362 major-league games — came in his last at-bat.
While Molina's familiarity with the Giants should benefit the Rangers in some ways, each Texas hitter will be on his own in the batter's box.
"Well, he should know our pitchers well. How big an advantage? Really, it comes down to pitchers making their pitches. You can see a pitcher three or four times and know if he's on top of his game," Bochy said. "They're hard to hit. It doesn't matter how much you know them."
Molina certainly isn't looking forward to trying to hit against Lincecum, Cain or Wilson. He knows how good they are, having had an up-close view of their development.
"It's going to be very hard," Molina said. "It's kind of weird to go back and try to face them. It's not easy at all. It's actually harder because you over-think yourself a lot of times."
Plus, this time, he'll have to think like a hitter — not a catcher.
Copyright 2018 The Associated Press. All rights reserved. This material may not be published, broadcast, rewritten or redistributed. We strive to uphold our values for every story published.