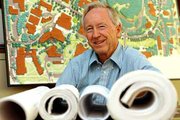 After 63 years of working in architecture, Kansas University's Warren Corman — now 84 years old — has decided it's time to retire.
In that time, working for the state architect's office, 31 years with the Kansas Board of Regents and 13 years as KU's university architect, his imprint is on hundreds of university buildings across the state.
That includes Allen Fieldhouse, a project he worked on when he was just starting in his early 20s.
He remembered how then-coach Phog Allen was angry that Ahearn Fieldhouse in Manhattan was built first, and how he lobbied the Legislature for additional funds for a larger building.
Still, the building had its critics, especially because it was built off Mount Oread, in what was then a cornfield, Corman recalled.
"You can't build down there; nobody will ever find it," Corman remembered critics telling him.
At KU, he also fought to eliminate bureaucracy, and shepherded a bill through the state Legislature to remove red tape in the state's building approval process. He also worked with then-Gov. Bill Graves to pass a $150 million state bond issue to help address the university systems' deferred maintenance backlog.
He recalled how one legislator from Great Bend opposed the maintenance measure, and once grumbled that the state didn't have any data to back up its claims. Corman said he then loaded up a pickup truck full of boxes of data and nearly filled the legislator's office.
"He could barely walk in there," he said. "It passed the senate 40-0, and the house 124-1. He was the one."
Eric King, who replaced Corman as director of facilities for the regents, praised Corman as a professional and as a person.
"I guess he probably has more common sense than most people I know," King said.
KU hasn't made plans to replace Corman, who also serves as a special assistant to the chancellor, but each regents university in Kansas is required to designate a university architect. Corman will step down in December.
He said he doesn't have any plans for retirement as of yet, but he'll stay involved in his church, Rotary club and other community organizations.
"I'll probably go home and bother the heck out of my wife," he said. "I won't be sitting around watching television, that's for sure."
Copyright 2018 The Lawrence Journal-World. All rights reserved. This material may not be published, broadcast, rewritten or redistributed. We strive to uphold our values for every story published.