Miami — Before leaving for the airport Monday and catching the flight to Boston, Dwyane Wade had a conversation with the friend he calls Larry.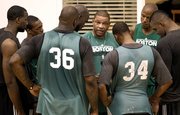 As in, the Larry O'Brien Trophy. The one they give out for winning an NBA championship.
"I asked him where he's been," Wade said. "He's eluded me. He's been missing for a while."
Larry will be waiting for someone in June, and tonight the Miami Heat will take what they hope is their first steps toward winning him when a season of title expectations finally opens in Boston. Miami squares off against the reigning Eastern Conference champion Celtics in a matchup loaded with story lines.
LeBron James' opener with Miami after seven seasons in Cleveland. Wade's first time with James and Chris Bosh as his Heat running mates. Shaquille O'Neal — once a teammate to both Wade and James — playing his first game in Celtics' colors. Paul Pierce, Ray Allen and Kevin Garnett motivated by a Game 7 loss to the Lakers in last season's finals. Miami's new Big 3 vs. Boston's not-so-new Big 3.
Oh, and the small fact that Wade and James were both ousted from the playoffs by Boston last spring, defeats that helped along their decision to play with one another.
"I think the NBA did an unbelievable job of picking a great first game," Wade said.
O'Neal says he believes it's just another game, noting that the only big games in which he's played in are the ones where "jewelry" — a ring — is up for grabs.
Not everyone is of that opinion.
"Once LeBron took his talents to South Beach, I think everyone got excited," Celtics coach Doc Rivers said.
The Heat practiced one last time in Miami on Monday morning, followed by coach Erik Spoelstra gathering his team in the locker room for a quick meeting.
He didn't have to say much. Spoelstra brought Miami's 2006 championship trophy and reminded everyone of the season's lone goal.
NBA
Wizards' Arenas might sit
Washington — Gilbert Arenas still has a sore right ankle and could miss the Washington Wizards' season opener.
Arenas sat out practice for the second straight day Monday. Coach Flip Saunders said the ankle has some fluid buildup and the team will have to "wait to see how it is" ahead of Thursday's opener at Orlando.
Kings exercise four options
Sacramento, Calif. — The Sacramento Kings have exercised a contract option on reigning Rookie of the Year Tyreke Evans.
The Kings also said Monday they exercised options on third-year forwards Jason Thompson and Donte Greene, and second-year forward Omri Casspi.
Thunder pick up 6 options
Oklahoma City — The Oklahoma City Thunder have exercised their contract options for six players, including starting point guard Russell Westbrook.
The Thunder announced Monday that they picked up the fourth-year option on Westbrook and forward D.J. White and the third-year option for guards James Harden and Eric Maynor, forward Serge Ibaka and center Byron Mullens.
Wolves' Webster out 4-6 weeks
Minneapolis — Minnesota Timberwolves swingman Martell Webster will miss the next four to six weeks to recover from back surgery.
The team said Webster had the operation Monday. He was hurt in the playoffs last season with Portland, and the injury flared up this month.
Blazers sign C, waive F
Portland, Ore. — The Portland Trail Blazers signed free agent Fabricio Oberto to help the team at center while Greg Oden and Joel Przybilla rehabilitate from injuries.
Terms of the deal were not announced.
Oberto, a 6-foot-10 native of Argentina, played last season with the Washington Wizards after four seasons with the San Antonio Spurs.
Earlier Monday the Blazers waived second-year forward Jeff Pendergraph, who injured his knee in the preseason and will require surgery.
Bulls plan to keep trio
Chicago — The Chicago Bulls have exercised the fourth-year contract option on All-Star forward Derrick Rose and third-year options on two forwards, Taj Gibson and James Johnson.
By exercising the options Monday, the three players will be under contract with the Bulls for the 2011-2012 seasons.
Heat waive Butler, Beverley
Miami — Da'Sean Butler and Patrick Beverley have been waived by the Miami Heat.
Monday's moves thwarted Butler's bid to make the Heat roster while recovering from a serious knee injury.
Beverley was bidding to be the team's third point guard behind Carlos Arroyo and Mario Chalmers.
College football
SEC: MSU needs less cowbell
Starkville, Miss. — Mississippi State's cowbells are in jeopardy.
The Southeastern Conference has levied fines against the school for violating the league's noisemaker policy related to its tradition of ringing cowbells at games.
The issue was first addressed at the SEC's summer meetings. The conference made a one-year rule allowing Mississippi State fans to ring cowbells — a proud symbol of the school — provided it was in dead ball situations like halftime, time outs and after touchdowns.
But cowbells are easily heard during games, especially when opponents are on offense. MSU athletic director Scott Stricklin said fans must cooperate or cowbells could be banned.
Copyright 2018 The Associated Press. All rights reserved. This material may not be published, broadcast, rewritten or redistributed. We strive to uphold our values for every story published.