Arlington, Texas — Tony Romo's season might be over, and the Dallas Cowboys' season might as well be.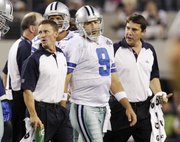 As for Eli Manning and the New York Giants, everything's clicking.
Romo broke his left collarbone in the second quarter, then his teammates let a 13-point lead turn into a 41-35 loss Monday night that helps send both teams in opposite directions in the NFC East.
The Giants (5-2) won their fourth straight and moved a full game ahead in the division.
Dallas slumped to 1-5, its worst start since 1989. That was the year Jerry Jones bought the team, Jimmy Johnson took over as coach and the Cowboys went 1-15. Everyone knew that team would stink. This club, however, had Super Bowl hopes.
Romo became the fifth quarterback knocked out by the Giants this season. He won't know a timetable for recovery until more tests are taken Tuesday. Jones said he was told six to eight weeks, although he noted that Troy Aikman missed only four weeks with a similar injury.
Whenever Romo's healthy, there may not be any reason to rush back. Only one team in NFL history has recovered from 1-5 to make the playoffs.
"It'll be tough," said Romo, who has missed only three games since replacing Drew Bledsoe as Dallas' quarterback in October 2006. "The train keeps going on. The games are going to be played."
Romo was drilled by blitzing linebacker Michael Boley with 12:07 left in the second quarter. It was a clean hit, but certainly a big shot — Boley was untouched and Romo was vulnerable after having thrown a pass. He went down hard on his left shoulder and remained flat on his back.
"The guard didn't see me," Boley said. "I came in scot-free. ... When he hit the ground, I heard him let out a little scream. I knew something was up, but I didn't think he was going to lay down. I thought it was a normal hit. After I got up and started running, I looked back and saw he was down."
X-rays showed the break before halftime, but Romo was back on the sideline for the second half, his arm in a sling and covered by a jacket. He wore a headset and trying to encourage teammates, but there wasn't much to cheer about.
Copyright 2018 The Associated Press. All rights reserved. This material may not be published, broadcast, rewritten or redistributed. We strive to uphold our values for every story published.