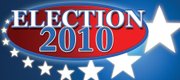 Find detailed candidate profiles, campaign finance information and complete election coverage in our Election Guide.
Topeka — Democratic incumbent Steve Six has spent twice as much money as his Republican challenger for Kansas attorney general, but both are getting hundreds of thousands of dollars worth of help from outside groups.
Finance records available Tuesday showed Six had spent more than $1.1 million through Thursday. GOP nominee Derek Schmidt, the Kansas Senate's majority leader, had spent less than $474,000.
In the governor's race, GOP nominee and U.S. Sen. Sam Brownback, had a large fundraising advantage, as expected, over Democratic candidate and state Sen. Tom Holland. Secretary of State Chris Biggs and State Treasurer Dennis McKinney, both Democrats, have outspent their opponents. Insurance Commissioner Sandy Praeger, a Republican, has no opponent in the Nov. 2 election.
The attorney general's race is notable for outside groups' attempts to influence voters. Six spokesman Gavin Young said the Democrat has had to raise more money than Schmidt to counter groups supporting the Republican.
"He's not generating his own support, but he's getting plenty of support from special interests," Young said.
But Six is getting his share of outside help too. A political action committee funded largely by the Democratic Attorneys General Association spent $889,000 from late August through mid-October to help Six, records showed. Most of the money went to buy radio and television advertising time.
"There's more being spent on Six's side of this than on ours," Schmidt spokeswoman Jackie McClaskey said.
Statewide candidates were required to file their latest finance reports electronically by midnight Monday, disclosing contributions and spending from July 23 through Oct. 21.
The records also showed Six had raised nearly $1.2 million for the race compared with $506,000 for Schmidt.
But Six has been raising money longer. He started in March 2008, shortly after Democratic Gov. Kathleen Sebelius appointed him to replace Paul Morrison, who resigned over a sex scandal. Six previously had been a Douglas County trial judge.
Schmidt didn't start raising money until November 2009.
He has had help from the Iowa-based American Future Fund, which paid for TV ads criticizing Six because he won't join court challenges to the federal health care reform law. Six has said there's no need to spend Kansas' resources on such challenges.
American Future Fund officials didn't return a telephone message, but McClaskey said the group is expected to spend between $300,000 and $400,000. It doesn't have to file reports in Kansas because the ads don't "expressly advocate" the election or defeat of a candidate but simply criticize Six.
Young said KS GOP for Schmidt also has purchased television time, including $2,045 worth of spots that began Tuesday on KTKA, the ABC affiliate in Topeka. But McClaskey said that group, which is tied to the state Republican Party, will likely spend less than $40,000, all of which it will have to report as a contribution to Schmidt.
Meanwhile, the Washington-based Committee for Justice and Fairness, which is backing Six, reported raising $3.3 million from July 23 through Oct. 21, all but $20,000 of it from the Democratic Attorneys General Association. It spent $833,000 on radio and television time for ads specifically for Six, plus money on polling and consulting.
In the governor's race, Brownback had spent nearly $2.3 million through Thursday and had almost $634,000 in cash left, finance records showed. Holland had spent about $574,000 and had about $74,000 left.
In the secretary of state's race, Biggs spent $241,000 from July 23 through Oct. 21, emerging from a contested Aug. 3 primary. The GOP nominee, Kansas City-area law professor Kris Kobach also had a primary race and spent about $95,000 during the same three-month period.
But Kobach ended the period with almost $131,000 in cash, compared with less than $11,000 for Biggs.
In the treasurer's race, McKinney spent almost $325,000 through Thursday. That's six times as much as Republican and Sedgwick County Treasurer Ron Estes, whose total was about $54,000.
Copyright 2018 The Lawrence Journal-World. All rights reserved. This material may not be published, broadcast, rewritten or redistributed. We strive to uphold our values for every story published.