Olathe — In a football game that lasted 40 minutes, Olathe North needed just under 20 to trample Free State High.
Photo Gallery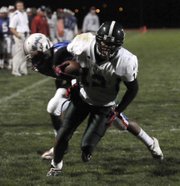 Free State football vs. Olathe North
Led by two of the Sunflower League's top rushers, the Eagles ran all over the Firebirds, 38-7, on Thursday night at the Olathe District Athletics Center.
"We had a game plan for them. It just didn't work," FSHS coach Bob Lisher said. "They did a nice job. That was just a good, old-fashioned behind-kicking."
Before senior quarterback Dylan Perry and FSHS finally found the end zone — on an 18-yard pass from Perry to Nate Davis — the game was well out of hand.
Seniors Victor Simmons and Adonis Saunders led O-North on a first-half barrage that all but decided the contest.
The Eagles (7-1) scored four touchdowns and outgained the Firebirds (4-4) in total yardage, 279 to 95, before the break.
"We knew what they were doing," Lisher said. "Our guys knew what they were doing. We just couldn't stop them in the first half."
Simmons, who orally committed to play for Kansas University next fall, finished with 169 rushing yards on 18 carries, including an 80-yard touchdown on the Eagles' third play from scrimmage.
The shifty Saunders carried 20 times for 93 yards.
"It's no secret," Olathe North coach Pete Flood said. "We want to get those kids loose."
After the second Firebird drive stalled, mostly due to a crucial false-start penalty on third-and-one, the Eagles struck again.
On the first play of the drive, Simmons took the snap and handed the ball off to junior Tanner Gentry on a misdirection run.
Gentry quickly got to the edge and took it 47 yards down the sideline for the score.
Perry, who finished with 81 yards rushing and 84 passing, and the offense again struggled to move the ball and gave it right back to the Eagles, who quickly capitalized.
Even after a solid push up front by the Firebirds and two strong tackles for loss by senior Henry Vaeono, Simmons found a way to make a play.
On fourth-and-13, Simmons — not known for his prowess as a passer — fired a strike to Gentry, who beat Perry deep for a 34-yard touchdown.
"It was deflating for everybody," Lisher said. "When you have a defensive end running fade routes and catching touchdown passes, catching long balls on a team that doesn't throw the ball very much — that's not good."
While the Firebirds labored on offense, the Eagles were as confident as ever.
So confident in its ability to run the ball, in fact, O-North opted to go for it on fourth down from its own 39-yard line. Needing only one yard, Simmons plowed through the pile for six.
Saunders later punched one in from a yard out to make it 28-0 as the half wound to a close.
Game over.
"They punched us in the mouth up front, and we didn't respond," Lisher said.
Senior Preston Schenck carried eight times for 35 yards, and junior Shawn Knighton caught three passes for 50 yards for the Firebirds, who, despite holding the Eagles to only 10 second-half points, were never really in it.
"We played a little bit better in the second half," Lisher said. "But when you're down 28-to-zip, that's a pretty hard hole to get out of."
Simmons and Saunders also stood out on defense, showing off their speed in coverage and making solid hits on the Firebird ball-carriers.
Simmons picked off Perry once, and Saunders had two interceptions.
Now at 1-1 in district play, the Firebirds face a must-win scenario next week against Lawrence High.
"I think our attitude has got to change," Lisher said. "I don't know if we thought we could win this game when we stepped on the field tonight by some of the things we were doing."
Copyright 2018 The Lawrence Journal-World. All rights reserved. This material may not be published, broadcast, rewritten or redistributed. We strive to uphold our values for every story published.