Lawrence High's volleyball seniors cried when they lost to Blue Valley North on their Senior Night on Tuesday, so they set out on a mission: ruin Free State's Senior Night on Thursday.
Photo Gallery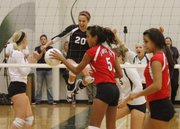 Free State volleyball vs. Lawrence High
This was senior night for the Firebirds.
The Lions did just that, defeating the Firebirds in straight sets (25-18, 25-19, 25-19) in front of a raucous City Showdown crowd in Free State's gymnasium.
"We came in here with confidence, which is what we needed to do," LHS senior Kendyll Severa said. "This is redeeming ourselves for Tuesday night."
Severa said her team was so excited for its Senior Night the Lions ended up a little shaky on the court.
"I think after we got all of our jitters out Tuesday night for the whole Senior Night thing," Severa said. "We were just ready to pound some balls."
Sisters Kelsey and Caitlin Broadwell led the offensive attack, finishing with nine and seven kills, respectively. Senior Kiely Mosiman had 16 assists, and Severa had 10 digs in the winning effort.
The Lions displayed a little shakiness to open the match, falling behind 10-6 before coach Stephanie Magnuson called a timeout.
"We had to remind them that our crowd is here, and they were being the loud ones and to feed off that energy," Magnuson said.
Both fan bases were well represented. Guys in red body suits and black trashbags supported the Lions, while fans in highlighter-green T-shirts cheered for the Firebirds.
Free State senior Reilly Moore said her team struggled to handle the intense environment.
"We play the best when we have fun," Moore said. "I've said that the whole season, and it's just hard for us to deal with when the crowds are just going crazy."
Moore and Severa are best friends, so Severa immediately found Moore after the game and hugged her. Severa told her that she played a great game and shouldn't be upset with how she played.
Moore, a member of the chamber choir and chamber singers, sang the national anthem, so Severa complimented her on that, too.
"She's my best friend ever, so she's kind of the one person that I wanted to talk to," Moore said. "She knows me inside and out."
The duo — both liberos for their respective teams — planned to go out for wings with their parents after all the hugs and screams.
Moore said her team needed to stay calm in tough situations.
"We just have a lot of things to work on before Saturday," Moore said. "We'll use this as fuel to just crush the teams that we play on Saturday."
Sub-state play is on Saturday at LHS. The teams were placed into four-team brackets Wednesday. Lawrence (19-16) is the No. 3 seed opposite No. 2 Olathe East (21-13). Free State (14-22) is the No. 4 seed across from No. 1 Olathe Northwest (32-5).
Magnuson brought her team together after the game and the Lions she wants her team to conquer sub-state. Per team superstition, all the Lions immediately knocked on the hardwood.
"We've been working hard all season, and we're ready to take on that challenge now," Magnuson said.
Copyright 2018 The Lawrence Journal-World. All rights reserved. This material may not be published, broadcast, rewritten or redistributed. We strive to uphold our values for every story published.