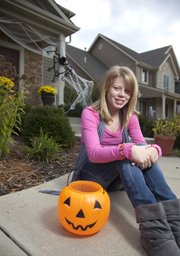 Over the years, 12-year-old Elizabeth Patton has dressed up as a butterfly, a piece of candy corn, Sarah Palin and a ghost for Halloween.
But this year, instead of planning what she will wear, she has spent the past few months raising money for others to buy costumes.
Since August, the Southwest Junior High seventh-grader has pulled together $200 through baby-sitting and holding bake sales. That money will help 16 children in the Douglas County Court Appointed Special Advocates program buy Halloween costumes.
The idea came to Elizabeth after she was instructed to find a need in the community and help for her seventh-grade confirmation class at Corpus Christi Catholic Church.
She knew she wanted to do something to benefit CASA, which helps children who are in the court system because of abuse or neglect at home.
"I was with my sister in her bedroom looking at a Halloween costume magazine when I thought about doing costumes for kids at CASA that might not be able to purchase them," Elizabeth said.
It's a thought that never occurred to the adults, Douglas County CASA executive director Diana Frederick said.
"Leave it to a kid to think of what is important to another kid," Frederick said.
After Frederick told her volunteers money was available to help with Halloween costumes, the phones lit up.
Even before Marcus Merritt knew about Elizabeth's contribution, he approached CASA to see if any funds were available to help purchase costumes for two children he mentors. This week, the family will shop for cheerleader and professional wrestler costumes.
"Elizabeth made that possible," Merritt said.
Sue Richardson will meet this weekend to help pick out costumes for three children she mentors. The children, ages 9 to 14, live with a foster family and have missed some childhood experiences.
"They just delight in the normal things that kids have done. I'm just thrilled to death to be a part of that for them," Richardson said.
Copyright 2018 The Lawrence Journal-World. All rights reserved. This material may not be published, broadcast, rewritten or redistributed. We strive to uphold our values for every story published.