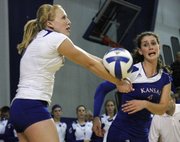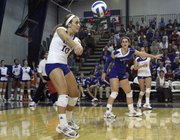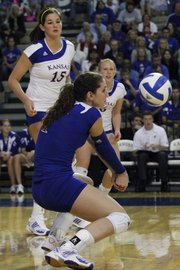 Kansas University's volleyball team couldn't stop the University of Texas offense and fell in three sets, 29-27, 25-21, 25-17, on Wednesday at Horejsi Center.
The Jayhawks fell to the No. 10 Longhorns in front of a sell-out crowd of 1,300 fans.
KU dropped to 13-8 overall and 4-6 in Big 12 play. Texas improved to 13-5 and 8-2.
Texas, which leads the Big 12 in hitting efficiency, attacked at a .425 clip. Kansas only hit .236 for the match.
"We can not allow someone to hit over .400 and expect to be successful," Kansas coach Ray Bechard said. "You hit .236 in a game like we did and you should win, but not when your opponent is at that clip."
For the third straight match, junior Allison Mayfield led the Jayhawks with 12 kills. Senior Karina Garlington finished with 11. Junior Nicole Tate added a team-high 36 assists.
The Jayhawks will travel to Ames, Iowa, to take on No. 12 Iowa State at 6:30 p.m. on Saturday.
Copyright 2018 The Lawrence Journal-World. All rights reserved. This material may not be published, broadcast, rewritten or redistributed. We strive to uphold our values for every story published.