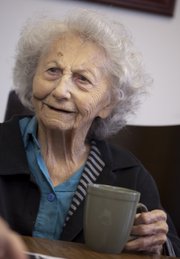 On the street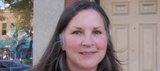 84, my mother.
Eudora — Henrietta Olson has done many things in her life.
She's driven a Model T, ridden a horse in the American Royal Parade and even started her own real estate firm. But on Friday she'll do something completely new.
Turn 106.
The longtime Kansas City, Kan., and current Eudora resident will spend time with friends, family and staff at Medicalodges, 1415 Maple Street, Eudora, to help celebrate the milestone. Olson says she's proud of her longevity, but feels younger than her years.
"I don't consider myself so old," she said. "I can read without glasses."
And Olson does read without glasses. Activities director Sue Coleman said Olson reads a newspaper every day and has been since she arrived at the skilled-nursing facility early last October. The evidence to confirm the claim sits neatly on a chair in Olson's room.
Coleman said the facility's eldest resident is extremely active and independent. Olson's room is the farthest away from the nurse's station, and she walks the halls daily, checking in on her neighbors and staff members as she does.
Nearly everything Olson does at her age she's learned to do on her own, a fact she'll gladly share.
"I'm pretty well satisfied with what I've figured out myself," she said.
Her work ethic is what she says has kept her healthy for so long. When she was younger she helped her mother with chores on the family's 10-acre property. The oldest of five children, she took on many responsibilities her younger siblings couldn't handle, including carrying water from a nearby spring for drinking and cooking.
Olson's responsibility and caring translates well to her community. Ronnie Faircloth, who works in human resources at Medicalodges, said Olson was very social and got along with everyone. Olson cited her time in real estate as one reason for her pleasant demeanor.
"I've lived a saleman's life," she said, smiling. "I go ahead and act like I like everybody."
Her attitude and age have netted her a long list of friends in the community, with the Eudora mayor scheduled to present her with a proclamation at her party. She's also been invited to receive recognition from the city council at the upcoming Monday meeting.
And Olson has plenty of stories to tell those who take the time to listen. She remembers many of the smallest details, but admits she can't remember them all.
"Some of them are all true," Olson said. "And some of them I've probably made up. Well, I mean, I exaggerate."
Medicalodges administrator Donna Fox said Olson's time at the facility has been enjoyed by everyone.
"We've been blessed with her for a little over a year," Fox said. "She's quite a gal."
Copyright 2017 The Lawrence Journal-World. All rights reserved. This material may not be published, broadcast, rewritten or redistributed. We strive to uphold our values for every story published.