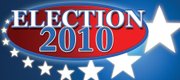 Find detailed candidate profiles, campaign finance information and complete election coverage in our Election Guide.
In preparation for November's general election, LJWorld.com will be hosting live chats with candidates for national and state offices today and Monday.
Jasmin Talbert, Libertarian candidate in the 3rd Congressional District, will hold a live chat Thursday from 11 a.m. to noon, and Mike Gaughan, candidate for Douglas County commissioner, will take live questions from 2 p.m. to 3 p.m.
Stephene Moore, Democratic candidate 3rd Congressional District, is scheduled to hold a live chat Monday, Oct. 25, from 12:30 to 1:30 p.m.
You can read the transcripts from recent chats and submit questions for today's chats by logging on to LJWorld.com/chats.
Copyright 2018 The Lawrence Journal-World. All rights reserved. This material may not be published, broadcast, rewritten or redistributed. We strive to uphold our values for every story published.