Free State High outside hitter Grace Miller couldn't explain the chemistry she and setter Katy Davis have.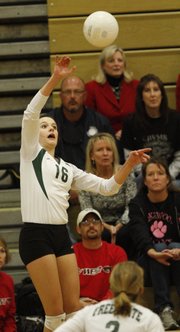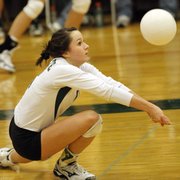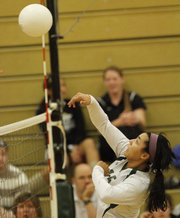 But every time Miller skied to spike the ball, Davis had lofted it right to her sweet spot.
"We don't really talk about it, it just kind of happens," Miller said.
Davis can feel it, too.
"I know right after it comes off my hand whether it's going to be a kill or not," Davis said.
After being downed in two sets by Blue Valley West (25-7, 25-10), the Firebirds — spurred by Davis and Miller — triumphed over Topeka High (25-23, 25-17) at a triangular Tuesday at FSHS.
West also took down Topeka, 25-7 and 25-15.
"We definitely focused more in our warmups," Miller said. "And I think we were a lot more confident to start out with the second game."
Davis, a sophomore, had 16 set-assists, and senior Elisa Coffey chipped in with 10 more in the match against Topeka.
Most of those helpers went to Miller, who had 15 kills, including five out of the final six points to close the first set against the Trojans.
"Grace was hitting really well, and when you get a hitter that's on like that, you've got to keep going to her," FSHS coach Nancy Hopkins said.
Of course, the outside hitters can only do as well as the sets they're given.
"Katy and Elisa both are really good about getting the ball to the hot hitter," Hopkins said.
Hopkins applauded Miller — the team's only freshman — for her growth this season, saying she has come a long way since the beginning of the year.
"Because she doesn't have a choice," Hopkins said. "She has to step it up."
The Firebirds (14-21) simply couldn't handle the length and power of the Jaguars, perhaps due to the absence of senior middle blocker Meaghan Holmes — who watched from the sidelines, a brace on her left knee.
"My front line's been struggling a little bit with teams that play that way," Hopkins said, adding that when they're at their best, though, "they're very capable of playing with anybody."
Hopkins said she needed to do a lot of lineup shuffling since the 6-foot-3 Holmes went down earlier this season.
But the front row stepped up in a big way against Topeka High, and not just Miller.
Junior middle blocker Mariah Dickson chipped in eight kills and one block, and sophomore outside hitter Shelby Holmes added six kills and three digs.
Senior libero Reilly Moore was stout from the base line, tallying a team-high 13 digs and chipping in one kill and one assist.
With Senior Night looming on Thursday — against Lawrence High, no less — Hopkins said she hoped the Firebirds would ride the momentum from their victory against Topeka High.
"I think we're pretty evenly matched, and if we're playing well it could be a really tough game," she said.
That might mean some more of the magic between the Davis and Miller combo.
"I hope so," Miller said.
Copyright 2018 The Lawrence Journal-World. All rights reserved. This material may not be published, broadcast, rewritten or redistributed. We strive to uphold our values for every story published.