Jacksonville, Fla. — Tennessee's Vince Young watched from the sideline. Jacksonville's David Garrard was in the locker room.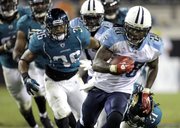 Both starting quarterbacks were knocked out of Monday night's game, turning things over to veteran Kerry Collins and recently signed Trent Edwards.
The backups performed as expected, with Collins leading the Titans to a 30-3 victory and Edwards looking mostly like a guy who joined the team three weeks ago.
"Kerry did a nice job, and that's why Kerry's here," Titans coach Jeff Fisher said. "We're very, very fortunate that we have two very good quarterbacks."
Collins completed 11 of 16 passes for 110 yards and a touchdown, directed five consecutive scoring drives and put the Titans (4-2) atop the AFC South. Tennessee, which also got 111 yards rushing and a late score from Chris Johnson, moved into a three-way tie with Indianapolis and Houston.
The Jaguars (3-3), meanwhile, were left in a familiar position. They finished last in the division the last two years and are again in chase mode.
"Not the night we were looking for," coach Jack Del Rio said. "We turned it over four times, lost our quarterback. ... Not the kind of night we wanted to have."
Young threw a 23-yard touchdown pass to Kenny Britt on the opening drive, then sprained his left knee on the next series.
"He's a little sore," Fisher said, adding that Young also sprained his left ankle. "He could have finished in shotgun."
Collins replaced him and threw a short TD to Bo Scaife, then led the Titans on time-consuming drives to keep control.
Jacksonville was plagued by turnovers for the second straight week. The Jaguars were able to overcome three mistakes against winless Buffalo. No such luck against Tennessee, which has won six of the last eight in the series.
The Titans turned three short fields into 13 points, taking advantage of two interceptions and a short punt.
Copyright 2018 The Associated Press. All rights reserved. This material may not be published, broadcast, rewritten or redistributed. We strive to uphold our values for every story published.