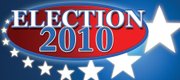 Find detailed candidate profiles, campaign finance information and complete election coverage in our Election Guide.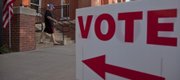 Alan Jilka and Tim Huelskamp are running for U.S. House of Representatives in the 1st Congressional District.
-->
LINCOLN — Alan Jilka rode into town in a red pickup on a sunny afternoon to meet prospective voters and walk in the local homecoming parade, a Democrat positioning himself as the moderate candidate in the 1st Congressional District race.
But the former Salina mayor is running in a Republican district, in what's supposed to be a very good Republican year. The GOP nominee, state Sen. Tim Huelskamp, of Fowler, remains favored to win as he emphasizes his opposition to President Barack Obama and the Democrats who control Congress.
Jilka chatted up Rex Rosenberg, a retired psychotherapist from Great Bend, in an encounter suggesting both the opportunities and difficulties the Democrat faces. Rosenberg brought his "ChewBaru," a 1995 Subaru covered in dentures, toothbrushes and empty toothpaste tubes, to drive in the parade, a natural conversation starter.
Rosenberg, a Republican, hadn't picked a candidate, and, being polite, he took one of Jilka's cards. But he also described himself as a conservative who's upset with the new federal health care law championed by Obama, as well as economic and social policies Obama and other Democrats are pursuing nationally.
He also assumes that if Jilka were elected, the freshman congressman would support his party's choice for House speaker.
"Just look at the things that have happened with the current administration, just one thing after another," Rosenberg said.
Huelskamp and Jilka are seeking the seat of U.S. Rep. Jerry Moran, a Republican who's running for the U.S. Senate. A Libertarian candidate, Jack Warner, of Wright, also is on the Nov. 2 ballot. Nearly 54 percent of the district's voters are registered Republican.
Jilka, 48, served 12 years on the Salina City Commission and three stints as mayor, starting in 1997, and his family operates a furniture store. Huelskamp, 41, is a farmer who's served in the Kansas Senate since 1997. Both oppose abortion, as does Moran.
However, Huelskamp is among the Legislature's most conservative members on social and fiscal issues, frequently in conflict with Senate GOP leaders. That was true this year, when he voted against a 10-year transportation program and a sales tax increase designed to stave off budget cuts.
Jilka argues many Republicans would abandon their party's nominee if they understood how conservative he is. Jilka said the question is whether he'll have enough time and money to get information about Huelskamp to them.
The Democrat has raised about $130,000, including $31,000 from mid-July through September, according to federal campaign finance records. Huelskamp raised $268,000 after mid-July, and his total fundraising, with a hotly contested GOP primary, has approached $1.1 million.
"We probably need a break or two," Jilka said after Lincoln's parade. "But if you would have talked to me a year ago, I would have said, 'You know, put me down the stretch with a feeling we've got a chance, and I'll take that.'"
Jilka is counting on voters seeing Huelskamp as a break from the popular Moran. The 2010 Almanac of American politics described Moran as a moderate, and he helped build overwhelming election victories with hundreds of town hall meetings across the sprawling district, which covers 69 counties in western and central Kansas.
But Moran also has a conservative voting record, earning a lifetime rating of almost 92 percent from the American Conservative Union and an "A'' from the National Rifle Association. Huelskamp said his views and Moran's are actually close.
And on Tuesday, Moran endorsed Huelskamp, suggesting he'll "stand up" to Obama and U.S. House Speaker Nancy Pelosi.
Moran advocates repealing the new federal health care law — just as Huelskamp does. Jilka has said he would have voted for the law though he sees still as "a work in progress."
"We're exactly in line, we think, with the district," Huelskamp said during an interview. "This is a referendum on Nancy Pelosi and Barack Obama."
In Lincoln, a town of 1,200 nestled in the Smoky Hills, blue was everywhere the day Jilka visited only because it's the color of the high school's Leopards.
Yet, as the GOP criticizes the new health care law, especially over a mandate that most Americans buy health insurance starting in 2014, a few Republicans here aren't as upset about it.
"Personally, I don't think too much is wrong with the bill that passed," said Gerald Walter, a 79-year-old farmer and retired bank loan officer. "I'm not so sure people understand the true story."
Sentiments like Walter's suggest an opening for Jilka, because Huelskamp doesn't shy away from his reputation as an uncompromising conservative.
Jilka has portrayed himself as more conservative than the Democratic Party's leaders, and he's agreed that Pelosi, the House speaker from San Francisco, doesn't understand western Kansas.
Darrell Hamlin, the Democrats' Ellis County chairman, said some Republicans might be willing to turn the seat over to Jilka, assuming the GOP will win it back in two years.
But Hamlin acknowledged that many Republicans are angry about what's happening in Washington — and motivated to vote.
"It's just a tough, tough year," he said.
And Huelskamp's criticism of Obama and Pelosi could resonate even with Republicans who have a positive view of Jilka.
Kathy Scharplaz, a 53-year-old Minneapolis rancher and Republican, campaigned door-to-door for Jilka in 2004, when he ran unsuccessfully for a state Senate seat, because he opposes abortion.
She considers Jilka "a good guy" but is a volunteer for Huelskamp's campaign.
"I don't know how you can be a Democrat and not get entangled in the Pelosi wing of the party," she said.
Copyright 2018 The Associated Press. All rights reserved. This material may not be published, broadcast, rewritten or redistributed. We strive to uphold our values for every story published.