Marjah, Afghanistan — The Marines have found bloody clothes and spent bullet casings and bombs meant to kill them. They've heard bullets flying overhead and seen muzzle flashes in tree lines.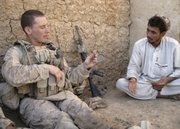 In this southern Afghan town that coalition forces seized from Taliban fighters eight months ago — and are still clearing — you don't have to go far to find the insurgency. But finding insurgents is another story altogether.
"The only time we see them is when we're in contact" in a gunfight, said Cpl. Chuck Martin, 24, of Middletown, R.I.
And even catching a glimpse of them during gunbattles can be rare.
When U.S.-led coalition forces poured into Marjah in February, they ended years of Taliban control here. But the Taliban never left — they simply went underground, blending in among civilians, taking advantage of the region's terrain of agricultural fields and irrigation trenches to stage daily ambushes of American patrols.
Today, U.S. troops are knee-deep in a classic guerrilla war, in what sometimes seems to be an endless turf battle against an often-invisible enemy that fights one minute, pretends to farm the next.
"I've seen the Taliban a couple of times, but it's only for brief seconds," said Lance Cpl. Benjamin Long, 21, of Trussville, Ala., who knew they were close on one recent patrol when machine gun rounds suddenly began kicking up dust near his feet. "It's like fighting ghosts. They're in and they're out. They're quick. They've been doing this a long time ... (and) they're good at it."
When U.S. forces go out on patrol, children and farmers come out of their homes and watch them closely. Some are just curious. Others use cell phones to tell insurgents what the Americans are doing.
When gunbattles erupt, Marines must simultaneously take cover and figure out where the Taliban are so they can return fire. They first listen to the crack and pop of gunshots, then look for muzzle flashes — although sometimes gunmen are hiding in foliage so thick they can't even see those.
Firefights often last around 15 or 20 minutes because the Taliban know how long it takes for troops to call in helicopter gunships or mortar barrages, Marines say. If air support doesn't arrive, the gunmen often start shooting again.
After one recent firefight, one Marine squad scooped up spent bullet cartridges from a compound insurgents had just fired from. It was the first time they'd found such a trace since arriving in July, said Sgt. Jeffrey Benson, 34, of Medina, Ohio.
"Usually they take everything after a firefight," Benson said. "They're real good at getting their dead and injured out."
During another 20-minute battle two days later, guerrillas ambushed Marines from the broken windows of a small, abandoned school compound. When Marines pushed up to it, they found more spent bullet casings — but again, no dead or wounded.
Soon, they began taking fire again from two more locations; the insurgents had merely withdrawn and found somewhere else to shoot from.
"It's like a little cat-and-mouse game," Martin said. "We try and get them. They hide their weapons ... then they just come back to the same location, pick up the same rifle, shoot at us again."
During the second gunbattle, Marines radioed for a mortar bombardment to suppress their attackers. A wave of shells exploded along the outer wall of a compound, shaking the area and kicking up vast brown clouds of dust.
When Martin arrived afterward to assess the damage, he found the father of a family who claimed he'd seen no Taliban in the area at all — a common refrain.
"It's one of the most frustrating things out here," Martin said. "We know there's Taliban in the area, and they're like, 'No, they're not."'
"I pressed him about it because I saw the guy right outside his compound shooting at me with a rifle, but he still said no," Martin said. "I'm not sure if they think we're stupid, or if they're so afraid of the Taliban they won't talk."
Copyright 2018 The Associated Press. All rights reserved. This material may not be published, broadcast, rewritten or redistributed. We strive to uphold our values for every story published.