Philadelphia — Roy Oswalt's daring dash around the bases nearly overshadowed his dominant performance on the mound.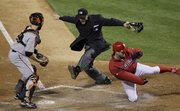 Oswalt pitched eight superb innings, Jimmy Rollins drove in four runs, and the Philadelphia Phillies beat the San Francisco Giants, 6-1, Sunday night to even the NL championship series at one game apiece.
"I'm hoping for a momentum switch and get back to San Francisco and take the series there," Oswalt said.
A day after Tim Lincecum outdueled Roy Halladay in a marquee matchup of aces, Oswalt beat Jonathan Sanchez.
The series shifts to San Francisco for Game 3 on Tuesday afternoon. Matt Cain faces Philadelphia's Cole Hamels, the 2008 World Series MVP.
Even though he didn't finish the outing, it sure was a complete game for Oswalt. He allowed one run and three hits, striking out nine. He also singled using one of Rollins' bats and scored a run after racing through a coach's stop sign in the seventh.
Instead of his pitching, everyone wanted to know what he was thinking on the bases.
"First thing in my mind was score," Oswalt said. "When I got halfway, I saw the stop sign. I said it's too late now. No turning back."
Rollins kidded Oswalt about it.
"It was a nice slide," he said. "That was something I would do. Actually, I probably wouldn't have needed to slide."
Cody Ross hit his third solo homer in two games for the Giants, who struck out 10 times.
Rollins busted out of a 1-for-15 postseason slump, going 2-for-3 with a bases-loaded walk and a bases-clearing double.
Oswalt showed why the Phillies got him from Houston before the trade deadline, shutting down the Giants in a crucial spot.
"You can't get caught up in the moment of trying to get momentum back on your side," Oswalt said. "You have to pitch your game."
Sanchez gave up three runs — two earned — and five hits in six-plus innings. The lefty had dominated the Phillies in his five previous starts against them, not allowing more than four hits in any outing.
"It's 1-1, you know? It's tied. We've got to go out there and start winning," Sanchez said.
Oswalt chased Sanchez with a line-drive single leading off the bottom of the seventh. He advanced to second on Shane Victorino's sacrifice off Ramon Ramirez. After Chase Utley was intentionally walked, Placido Polanco lined a single to center. Oswalt ran through third-base coach Sam Perlozzo's stop sign and slid safely ahead of the relay throw to give the Phillies a 3-1 lead.
"That was comical," Rollins said. "Roy's got those stiff hips and he looked like he was cardboard running down the line, but he got it done tonight."
Copyright 2018 The Associated Press. All rights reserved. This material may not be published, broadcast, rewritten or redistributed. We strive to uphold our values for every story published.