Photo Gallery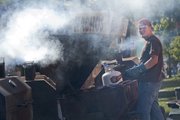 Maple Leaf Festival 2010
Baldwin City — Warm, sunny weather and a long parade helped pack the downtown streets Saturday for the 53rd annual Maple Leaf Festival.
With temperatures reaching into the lower 80s and no clouds in the sky, the annual fall festival may have seen its largest crowds ever. Thousands of spectators watched the morning parade and thousands more covered the streets all afternoon.
"It was incredibly successful," said Annie France, Maple Leaf committee chairman. "We had incredibly beautiful weather. "I saw a lot of people in shorts, T-shirts and sundresses. We really appreciated the nice weather. It's better than rain any day."
Each year the festival draws Baldwin High School and Baker University alumni. They, too, enjoy the foods and crafts.
"I came back for the good food, good people and good weather," said P.J. Matulka, a 2009 Baker graduate. "It's quite the event here in Baldwin. It brings in nearly 30,000 people. Besides Baker, this is the one-stop-shop for Baldwin. I just wanted to be a part of it this year."
The annual parade was the main draw in the morning. It lasted more than an hour as area bands, politicians and Kansas University mascots Big Jay and Baby Jay entertained the crowd.
"It was a really smooth parade," France said. "I heard there weren't as many starts and stops. It was a fun parade."
After the parade, thousands of visitors packed the downtown streets of Baldwin City looking for crafts and food — both were easy to find. Food lines were long all afternoon, but choices were aplenty.
Every year the most popular stands include turkey legs, hamburgers, funnel cakes and baked goods. A new addition to the 2010 festival was a food pavilion, at the corner of Eighth and Chapel streets, which was a big hit.
"The new food pavilion down at the BPW did very well," France said. "They had live music down there and that went really well. They had lots of different influences, and the line for the Indian tacos was unbelievable."
Others preferred the local restaurants, such as Hickory Creek Barbecue.
"There is a wide array of foods," Matulka said. "Whatever your flavor is, it's going to be here. I know I'm about to get myself some barbecue. That's my flavor."
The booths will open around 9 a.m. today and close around 4 p.m. The crowds are much smaller on the second day of the festival, but there is still plenty to buy, eat and do in Baldwin City, France said.
"The vendors are usually rested (Sunday) morning because they are staying locally," she said. "They are more relaxed, and there is usually just as much to buy tomorrow as there was today. Plus the crowds are smaller, too."
Copyright 2018 The Lawrence Journal-World. All rights reserved. This material may not be published, broadcast, rewritten or redistributed. We strive to uphold our values for every story published.