Photo Gallery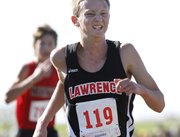 Sunflower league cross country
Before Saturday's race, Free State junior runner Lynn Robinson made a friendly wager with a friend, who happens to be a professional chef.
If Robinson finished in the top three, he'd make whatever meal she wanted. If she failed to place in the top 10, though, she'd be stuck wearing a goofy outfit to school and practice next week.
Talk about motivation.
"I was sitting fifth, and was like 'You know what? I want some amazing food'," Robinson said. "And I saw two girls that were struggling a little bit, and I kicked it in way sooner than I usually do."
Robinson turned on the jets late, and cruised past the finish line in 16 minutes, 18.11 seconds, good for third place in the girls varsity 4K at the Sunflower League cross country championships at Rim Rock Farm.
Paced by Robinson and senior Hayley Francis, who finished in 16th with a time of 16:51.90, the Firebird girls team finished fourth.
The Lawrence High girls team finished sixth, led by sophomore Grace Morgan's ninth-place finish at 16:35.59. Junior Michala Ruder finished in 25th place with a time of 17:08.92.
Despite not topping her personal best at Rim Rock, set last time out — it was her first time ever running the course — the day was still a success for Morgan.
"Last week, I got first, but this is my best (place) at Rim Rock," she said. "I'm really pleased, it's way better than getting 52nd."
No gourmet meal is awaiting her, though.
"High fives," Morgan laughed when asked what she might receive following the race.
In the boys varsity 5K, Lawrence finished third, and Free State came in sixth place.
Sophomore Gavin Fischer was the top Lions finisher (16:51.47, eighth place), followed by junior Zach Andregg (17:03.21, 16th place).
Firebird senior Logan Sloan finished in seventh place after running a 16:47.63, and junior Kain Anderson was right behind him in 10th place with a time of 16:52.72.
Exhausted because of a soccer game the previous night, Fischer said he battled migraines all morning leading up to the race — and was happy with how his day ended up.
"I just kept focused on my running form to keep my mind off of it," he said.
Sloan was not as pleased.
After jumping out to a huge lead around the one-mile mark, Sloan tired down the stretch.
"I just fell apart. I wasn't ready, I went out too fast," said Sloan, still trying to catch his breath after the race.
Disappointed as he was with his finish, Sloan said he would readjust his strategy for the bigger races that loom ahead: regionals and state.
"(Today was) very important, I know now that I have a pack to run with the whole time," Sloan said. "It was just good practice today. We just use this as a practice."
After her third-place finish, Robinson likely won't do any tinkering with her approach.
"I felt a lot better today," Robinson said. "I kind of changed my strategy to where I go out hard and just hold on; it seems to work a lot better for me."
Robinson said she isn't sure yet what she'd have her friend cook up, but suggested it would be packed with plenty of carbs.
"I definitely need it," she said with a grin.
The Shawnee Mission Wst girls team took first place, paced by sophomore Alli Cash's blazing time of 15:28.18 — nearly a minute ahead of second place finisher and teammate Caitlin Cooper (16:10.75).
Shawnee Mission Northwest dominated in the boys race, as its four top varsity runners finished one-through-four.
Copyright 2018 The Lawrence Journal-World. All rights reserved. This material may not be published, broadcast, rewritten or redistributed. We strive to uphold our values for every story published.