Despite a few tough losses where some key elements were missing, Free State High's football team didn't forget its blueprint for success.
Photo Gallery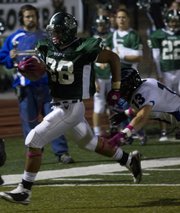 Free State football vs. Olathe Northwest
Boosted by big plays, a powerful running attack and timely defensive stops, the Firebirds (4-3) opened district play by outlasting Olathe Northwest, 35-21, at senior night on Friday.
The team's 18 seniors were acknowledged before the game with members of their families, and they were mobbed after the game by friends and fans.
"It feels really good," senior quarterback Dylan Perry said. "First of all, because it's senior night, second of all, it's just good for our team to get the first district win — that's what's more important — and then just confidence going into our next game."
Perry completed 13 of 24 passes for 184 yards, three TDs and one interception and rushed for 96 yards — none bigger than his 63-yard scamper in the third quarter which regained the lead and put Firebirds ahead for good.
"Overall, Dylan played great. He got the ball in the right person's hands. He made huge plays defensively and offensively," coach Bob Lisher said. "Dylan's the man. He's not even 100 percent, either."
If Perry wasn't at full strength, it didn't show.
All three of Perry's touchdown passes came in the first half, one to junior Shawn Knighton and two to junior Desmond Wyatt, who finished with five catches for 96 yards.
The first touchdown strike to Wyatt was a beauty.
Perry lofted the ball over two Raven defenders to Wyatt, who tipped the ball to himself, catching it just as he hit the turf in the end zone.
Wyatt, who also intercepted a pass, was asked which play was his favorite.
"I think the interception, because it sealed the game for us and made us win," he said.
Senior running back Preston Schenck, though still hampered some by a high ankle sprain, provided the offense with spark, rushing for 103 yards on 21 carries.
"It makes us a little more viable offensively, people have to honor him now that (Schenck's) starting to get his speed and strength back in his leg," Lisher said.
Perry praised the offensive line for their pass protection and for opening up big running lanes.
"When everything clicks on offense, our line blocks well, and it just elevates everybody else's play," he said.
Though the Firebirds dominated possession in the first half — Olathe Northwest ran only 11 plays in the half — they only took a 21-14 lead to the half.
And after the Ravens (2-5) came out of the locker room with a 15-play drive and the equalizing touchdown by Leonard Parks, the first-half highlights were quickly forgotten.
Not for too long, though.
On the Firebirds next drive, Perry kept the ball and rushed over right guard before cutting back to the left, where he cruised down the sideline for the score.
From there, Free State's defense allowed only one more first down, and senior Henry Vaeono hurdled over the line for a 1-yard touchdown to cap the scoring.
Senior kicker Amanda Moyer — the 5-foot-2 cheerleader and soccer player — also shined on senior night, hitting on all five extra point attempts.
The Firebirds will certainly enjoy their feel-good evening, but today the focus shifts to next week's matchup against perennial powerhouse Olathe North.
"You always want to start your district off with a win, and fortunately for us, we came out and played a solid, solid team and came out, overcame some mistakes and won the football game," Lisher said.
Copyright 2018 The Lawrence Journal-World. All rights reserved. This material may not be published, broadcast, rewritten or redistributed. We strive to uphold our values for every story published.