Norman, Okla. — The whistle blows and the play is over, yet there's no time to relax with the way No. 6 Oklahoma attacks on offense.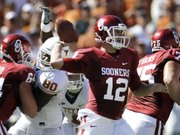 The end of one play means it's time to move on to the next, as quickly as possible. Quarterback Landry Jones gets the play call from the sidelines, then hurriedly bounces from one lineman to the next to pass instructions along. Only a few seconds later, the ball is snapped.
If everything's clicking, the defense hasn't had time to set up yet.
This is no frantic two-minute drill brought on by a late deficit. The Sooners (5-0, 1-0 Big 12) are just as likely to move at the ultra-fast tempo in the first quarter of a scoreless game, just as they did in scoring their first touchdown in the 28-20 Red River Rivalry win against Texas two weeks ago.
When the timing seemed right, they sped things up again early in the fourth quarter and scored another touchdown against an unsettled Longhorns defense.
"You can see it on the defense's faces," tight end James Hanna said. "They're starting to get confused or get tired from it."
Oklahoma first went with the hurry-up offense back in 2008, using it to score an NCAA record 716 points. Sam Bradford ran the controls with precision and landed the Heisman Trophy with the massive numbers he was able to accumulate through added snaps.
Last year, the fast-break offense was rarely a factor. Bradford and a slew of other offensive starters missed extensive time with injuries, and their replacements couldn't produce the same pace without costly mistakes.
In the offseason, finding that high gear again was a focal point. It started with getting players in the right condition to be able to play without breathers, then developed with rapid-fire repetitions in training camp.
"I feel like through two-a-days we definitely improved with our speed of it, and that helps tremendously because the defensive line can't get set, they don't know their calls, they don't know what to do," center Ben Habern said. "And it's proven on tape that you can tell we kind of gash defenses a couple times when they're not set."
DeMarco Murray had touchdowns from 19 and 20 yards — his longest runs of the game — against Texas. On one 29-yard pass play against Cincinnati, the Sooners snapped the ball with a whopping 27 seconds left on the 40-second play clock. That pass set up an early touchdown, and Oklahoma went back to the hurry-up pace on a 92-yard scoring march in the third quarter of the 31-29 victory.
Copyright 2018 The Associated Press. All rights reserved. This material may not be published, broadcast, rewritten or redistributed. We strive to uphold our values for every story published.