Kansas University outshot Oklahoma, but the Sooners escaped with a 3-1 Big 12 Conference soccer victory on Sunday at the Jayhawk Soccer Complex.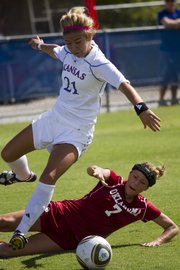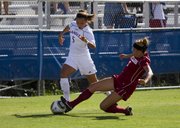 Caitlin Noble scored the Jayhawks' lone goal, placing a header in the left corner of the net late.
Oklahoma (8-5-1 overall, 3-2-0 Big 12) jumped to a 1-0 lead when Whitney Palmer scored just 11 seconds in. It was the quickest an opponent has scored against a KU team.
"We probably should have just cleared that ball instead of bringing it down," KU coach Mark Francis said. "The kid just took the first touch, and nobody stepped to her. She took it well, but you can't let people shoot from that range without stepping and pressuring the ball."
Another goal put OU ahead 2-0 in the 20th minute.
"The second goal was the same way," Francis said. "We got beat; we overcommitted, but nobody stepped to the ball to defend."
An aggressive second half ensued for the Jayhawks. KU (5-9-0, 1-5-1) controlled the ball early on and pressured the Sooner defense, getting off 13 shots, with six on goal.
"We showed up in the second half, but unfortunately the game is 90 minutes long. At that point we're down 2-0," Francis said.
Francis lamented the Jayhawks' missed chances.
"We need to finish our opportunities a lot better than that. (Oklahoma) had three goals, and they maybe had five good chances today," Francis said. "We probably had six other chances from in or around the box where we hit it right at the keeper or we hit it wide. We have to be better at both ends of the field."
Oklahoma ended a four-match stretch at home for KU. The Jayhawks will split next weekend's series, traveling to Lubbock to face Texas Tech on Friday night and hosting Baylor on Sunday.
Copyright 2018 The Lawrence Journal-World. All rights reserved. This material may not be published, broadcast, rewritten or redistributed. We strive to uphold our values for every story published.