For the first time in program history, the Kansas University volleyball team recorded a victory over a top-10 opponent with a 3-1 triumph over No. 10 Iowa State on Saturday at the Horejsi Center.
Photo Gallery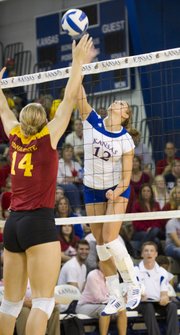 KU volleyball vs. Iowa State
For the first time in program history, KU volleyball topped a top 10-ranked opponent.
The Jayhawks won by scores of 25-14, 25-23, 20-25 and 25-17.
The Cyclones were the highest-ranked opponent KU has knocked off since No. 13 Texas A&M; on Nov. 20, 2004.
Kansas improved to 12-6 overall and 3-4 in the Big 12. The Jayhawks have won four straight home matches.
Iowa State fell to 11-4 (4-3 Big 12).
KU senior Melissa Manda recorded a career-high 32 digs, which tied the single-match Big 12 mark this season.
Junior setter Nicole Tate tallied 14 digs and 48 assists for her fourth consecutive double-double.
Senior Karina Garlington had a team-high 18 kills.
The Jayhawks will travel to Baylor for a 7 p.m. match on Wednesday in Waco, Texas.
Copyright 2018 The Lawrence Journal-World. All rights reserved. This material may not be published, broadcast, rewritten or redistributed. We strive to uphold our values for every story published.