Aron Cromwell's knuckles soon will be put to the test.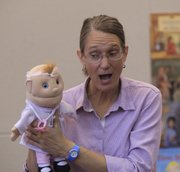 Lawrence voters will go to the polls on Nov. 2 to decide the fate of an $18 million proposal to expand Lawrence Public Library, 707 Vt.
Cromwell is confident it will pass because his knuckles tell him so.
Cromwell, a Lawrence city commissioner, was running for his first term in office in 2009 when he realized Lawrence voters were about as familiar with him as they were with the Mizzou alma mater. So, with his wife and son away from the house for about a month, he walked the city and knocked on 3,000 doors.
"I just asked them what they thought needed improvement in Lawrence, and the library was the number one issue they told me," Cromwell said.
(Sidewalks were second, in case you're wondering.)
So after winning his election, Cromwell started planting the seeds for another one. He became the commission's liaison to the Lawrence Public Library Board and began preaching to the choir that the library needed an expansion.
Next month — more than a year after his knocking and several recession scars later — Lawrence voters will decide whether the library still ranks as high on their priority list. Even though the project would require a tax increase, Cromwell is betting that it will win because voters won't like the alternative.
"We're going to have to increase the amount of money we're spending on the library because what we're doing now is just not sustainable," Cromwell said. "If the amount doesn't go up, the service will have to go down. I don't think that is something we'll accept in this community."
The plan
For those of you who have been following the library's proposal about as closely as you followed "War and Peace" in literature class, here's a review of what's up for approval:
• The $18 million plan would require a property tax increase of 1.5 mills for 20 years to pay for the construction of the building. It would require another 0.5 mill increase to operate the larger library. A mill is one dollar in property tax for every $1,000 in assessed valuation. For the owner of a $170,000 home — which is about the average in Lawrence — a two-mill increase would be result in property taxes rising by about $39 per year.
• The library would grow by about 20,000 square feet to about 66,500 square feet, and all areas would be upgraded. The existing library would be extended about 30 feet closer to Vermont Street. New space also would stretch south down Vermont and into parts of the existing parking lot.
• The children's area of the library would double in size and include a separate space for young adults.
• The amount of floor space for books and other items would increase by 20 percent in the expanded library.
• A three-level parking garage would be built on a portion of the current parking lot. The garage would have 250 spaces, up from 125 today. Parking would account for about $4.3 million of the project's costs.
• Meeting space in the library would double, and would be arranged to allow for up to nine meeting rooms and six reading rooms, with some overlooking adjacent Watson Park.
• A drive-through book drop-off and service window would be added to the west side of the library.
• The reconfigured library would have room for 100 additional public access computers.
"Our goal is for the library to be warm and inviting," said Bruce Flanders, director of the library. "I think people get that feeling now, but it mainly comes through the people who work here. With this, the building would fit that image better. It will be a place that is more of a destination."
Flanders said he's confident that if the expansion is completed, the library's already-growing visitation numbers would experience a major spike.
"I would be very surprised if we didn't see an increase of 25 percent in our usage in just a couple of years," Flanders said.
The need
Growing numbers largely are at the heart of library leaders' desire for a larger facility.
The predictable number that has grown is the age of the current library, which is at Seventh and Vermont street. It is now 38 years old, and Flanders frequently reminds people that Lawrence's population back when the library was built is half the size it is today.
The less predictable number is 510,000. That's the number of visits made to the library in 2009. The number was up 8 percent from 2008.
"It is an interesting paradox," Flanders said. "We're in an increasingly digital age, but our numbers are going gangbusters."
Numbers are up in a variety of categories. Circulation — the number of items checked out at the library — topped 1.3 million, which was an 11 percent increase. Attendance at library programs topped 40,000 and was up 12 percent.
The number of meetings held at the library grew by 6 percent to 535. The less encouraging number, Flanders said, is that the library turned away 191 additional meetings due to lack of space.
But there is one declining number that also is driving the library debate. Flanders said the city's funding for the library hasn't kept up with the city's population growth. As a result, Lawrence's per capita funding for libraries now ranks seventh out of the 10 largest cities in the state, according to the most recent report from the Kansas State Data Center (which is based on 2008 numbers).
Lawrence spent $34.14 per person on library funding, which put the city ahead of only Garden City and Wichita. Lawrence was well behind top-spender Topeka, which spent $88.43 per person. Every city, though, was well behind Topeka. Excluding Topeka, Lawrence was about $3 below the average or about $6 below the median. The current proposal would add about $1.7 million to the library's annual budget, or about $18 per person, based on Lawrence's most recent population estimates.
To Flanders, in a community where education is its largest industry, Lawrence's current low ranking doesn't speak well.
"I feel like it is kind of a sad commentary," Flanders said.
The concerns
Some Lawrence residents, though, believe we're in sad economic times.
Thus far, no formal group has emerged to oppose the library bond issue. But Jim Mullins, a field director for the government-watchdog group Americans for Prosperity, said his organization is actively considering mounting an opposition campaign.
"If we take a position on it, it would be to turn it down," Mullins said. "We don't think now is the time to raise taxes."
Mullins said the timing is terrible for a Lawrence tax increase. If approved, it would mark the third straight year that Lawrence residents have seen a local tax increase. In 2009, a 0.55 percent sales tax increase — approved by voters — took effect. In November of this year — about the time voters go to the polls — property tax bills will include a 2.9-mill increase for Douglas County government and a 2-mill increase for Lawrence public schools. If the 2-mill increase for the library is approved, it would show up on property tax bills in November 2011.
Mullins said the tax increases run counter to the new trend of the private sector spending less and saving more.
"Saving is what government should be doing at every level," Mullins said. "We're trying to hold things close to our belt, and you guys are not. That's the message we should be sending to government."
But Cromwell said the library has taken steps to make the proposal financially responsible. When the library last considered a new project in 2006, it recommended a $30 million project. Cromwell said both the costs and the size have shrunk out of concern for the economy.
Cromwell also said he believes city government is in a good financial position to take on the project. Unlike other governments, the city hasn't significantly increased its mill levy since 2003, has reduced the number of city employees, and has not dipped into its reserve funds to balance budgets.
The library project, coupled with the already approved sales tax to bolster city streets and infrastructure, will put Lawrence in a good position to attract new residents and businesses once the economy improves.
"It is time to take the lead," Cromwell said. "The city has to be built for the future. This is the time to do it. When this recession is over, we're going to be sitting here ready to showcase our community as one that is prosperous."
Copyright 2018 The Lawrence Journal-World. All rights reserved. This material may not be published, broadcast, rewritten or redistributed. We strive to uphold our values for every story published.