Indianapolis — The Colts could recite this plot from memory.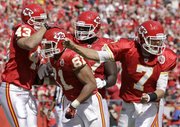 Perfect record, on the road, with everybody waiting to see if the NFL's last unbeaten team can defy the odds by winning one more time.
In 2005, 2006 and 2009, Indianapolis was the center of the football universe. Today, the Colts will be playing spoiler against Kansas City.
"It doesn't feel any different," Indy safety Antoine Bethea said. "It's a home game."
But it is different.
Four times in the last six seasons, the Colts have gone into November with every other team taking shots at their perfect run. Now, barely a month into this season, a mediocre start has turned Indy (2-2) into the target of armchair quarterbacks while the Chiefs (3-0) remain the league's darling.
It wasn't an obvious scenario when the season began.
After all, the Chiefs haven't won more than four games in a season since 2006, and their downward spiral began with a shocking 23-8 loss — to Indy — in the playoffs that season.
Since beating Jacksonville in the 2006 regular-season finale, the Chiefs are just 13-39.
So 3-0 sounds pretty good right now, especially for those who endured a 4-12 season last year.
"It is pretty crazy to think about because I know how long last year was for all of us, to win just four games," quarterback Matt Cassel said when asked about the possibility of matching last season's victory total today. "We're excited about our start, but we realize it is just a start, and we have 13 more games to play."
At least history and some of the matchups are on Kansas City's side.
The NFL has had at least one team start 4-0 every year since 1971, and the Chiefs have built this team around a strong, two-headed running game, which plays to the Colts' greatest weakness. Indy is yielding nearly 150 yards per game on the ground.
Jamaal Charles proved last year that he could carry the load and hasn't disappointed this year by averaging 5.5 yards per carry for the Chiefs. Kansas City also added Thomas Jones, the top runner on the Jets' No. 1-ranked rushing game last year, in an offseason trade. He's averaging 4.2 yards.
Still, the big question is this: How good are the Chiefs?
"They're a very legit 3-0 team," Colts linebacker Gary Brackett said. "They're a very good team, and the guys they've brought in know how to win. (Mike) Vrabel has won three championships, Thomas Jones runs for 1,000 yards everywhere he goes."
Added K.C. coach Todd Haley: "We haven't seen a team like this (Colts). We really haven't — no disrespect to any of the teams we've played in the last year and a half. We are a young developing team playing an ultra-talented team and part of our building will be going into a hostile environment."
Copyright 2018 The Associated Press. All rights reserved. This material may not be published, broadcast, rewritten or redistributed. We strive to uphold our values for every story published.