Kansas City, Mo. — It was up for debate, prior to Friday's exhibition NBA basketball game at Sprint Center, whether Miami Heat point guard Mario Chalmers, Miami superstar LeBron James or Oklahoma City Thunder center Cole Aldrich would get the loudest cheer.
Photo Gallery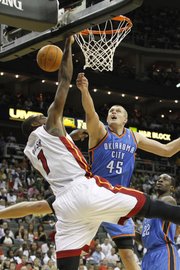 NBA exhibition: Miami Heat vs. Oklahoma City Thunder
But, midway through the first quarter of Miami's 103-96 NBA exhibition victory over Oklahoma City, a darkhorse candidate emerged from nowhere and nearly stole the show.
Sitting courtside, on the baseline near the Miami bench, Kansas University men's basketball coach Bill Self and his wife, Cindy, were tossed onto the video board during the "Kiss Cam" segment that came with about three minutes remaining in the first quarter.
Though the ovations for Chalmers, James and Aldrich — in that order — nearly brought down the house during the pregame introductions, the Selfs were a close fourth after obeying the unwritten rules of the "Kiss Cam."
"It certainly wasn't me, I can tell you that," said Self when asked who got the loudest ovation.
That might have been true, but it also seemed fitting. After all, Friday's exhibition was about the NBA game, more specifically the return to the area of Chalmers and Aldrich, two former Jayhawks who teamed to help bring Kansas a national championship in 2008. That fact was not lost on Self, who watched intently throughout the game and seemed genuinely impressed with what he saw.
"It's just so great to see three Jayhawks out there," said Self, referring also to OKC forward Nick Collison, who did not play because of injury. "I really was pleasantly surprised by how hard both teams (were) trying."
While the Jayhawks received the most pregame love from the pro-Heat crowd, the loudest ovations were reserved for James, who flushed two breakaway dunks, one in each half. After both, the crowd went wild, much in the way it did at the beginning of the game when James slapped his hands together and executed his signature chalk toss just before tipoff.
Sprint Center officials said the game sold out within 48 hours of James announcing — via "The Decision" — that he was joining the Heat back in July. James received a warm welcome, but it paled in comparison to the ovation given to Chalmers, the hero of KU's national title run.
Chalmers said before the game that he had warned James all week that he and Aldrich would get louder ovations when the teams took the court in Kansas City.
After the game, James said he believed his new teammate beforehand and had no problem sharing the spotlight.
"Of course," James said with a smile. "I understand how big Kansas basketball is, and, with Rio and Cole Aldrich, I know how huge they were in college, so I understand. The fans were great. It's always fun coming into cities that don't have an NBA team, and they get an opportunity to see us live. And to come out here and play as well as we did was great."
The Heat — James led the way with 22 points, seven rebounds and eight assists, Chris Bosh tallied 23 points and seven rebounds and Udonis Haslem finished with 17 and nine — weren't the only guys who turned in stellar performances, according to Self. Though the box score showed Aldrich had just two points, four rebounds and three blocks in 28 minutes, Self saw a player who had improved a lot since leaving Kansas.
"I think he looks great," Self said at halftime. "He's moving well, he's working hard, and it looks like he's going to be a great ball screener for them. We certainly know how well he can do that."
Despite his strong start and the obvious fact that he already has the trust and support of his teammates, Aldrich doesn't seem to have changed much at all. In fact, second-year pro D.J. White, a 6-foot-9, 251-pound forward from Indiana, needed just four words to describe Aldrich.
"He's still Country Cole," White said of his new teammate.
By all accounts, that was a compliment, one shared by most of Aldrich's OKC teammates, including Collison, who made sure not to put too much pressure on Aldrich to carry the KU torch.
"He's probably nervous enough, he doesn't need any more on his shoulders," Collison said before the game. "This is just his second game. But he's doing great. It's tough, man. He's smart, he picks up the stuff, he's got a good feel of how to play and where to be, and he's a breath of fresh air around here."
As for Aldrich, the 6-11 center from Bloomington, Minn., who was the 11th pick in last summer's NBA Draft, he said he felt like the same guy he's always been, save for a few bumps and bruises from a grueling training camp and the first couple of preseason games.
The meeting with Chalmers was the second straight match-up against a former teammate for Aldrich, who, two nights earlier, faced former Jayhawk Sherron Collins and the Charlotte Bobcats during his pro debut. In that one, Aldrich played 20 minutes, scored three points, dished two assists and grabbed seven boards while committing three fouls.
Friday in Kansas City, Aldrich looked equally as impressive during the first start of his pro career. Chalk that up to the comfortable environment. During his KU career, Aldrich played a handful of regular-season games and a couple of tournament games at Sprint Center.
"I had a lot of fun tonight," said Aldrich, who received ovations throughout the game, even after feats as pedestrian as picking up loose balls. "The fans here are great. I gave 'em my heart for three years, and I'm just happy to be back."
Statistically speaking, Chalmers' game was not quite as strong Friday. However, despite finishing with just five points on 1-of-6 shooting, four fouls and five assists in 17 minutes, Chalmers was the winner of Friday's "Player of the Game" text contest from the sellout crowd of 18,222 that packed Sprint Center. He received 43 percent of the vote.
"Mario looks good, too," Self said. "He belongs. He just wasn't hitting shots. I told Cindy, the last time he took this many shots in this building he hit eight of 10 three-pointers (in KU's 84-74 victory vs. Texas in the title game of the 2008 Big 12 Tournament)."
Copyright 2018 The Lawrence Journal-World. All rights reserved. This material may not be published, broadcast, rewritten or redistributed. We strive to uphold our values for every story published.