To register:
Registration for Making Strides Against Breast Cancer starts at 1 p.m., and the walk begins at 2 p.m. Oct. 17. The walk will take place downtown and around the Capitol building. For more information, visit http://www.makingstridestopeka.org.
Photo Gallery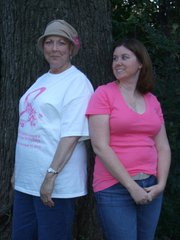 Make Strides Against Breast Cancer Walk 2010
Colleen Bloom is making her strides, dressed as a superhero, in honor of her mother.
"I just want to raise money, and it's just another way to tell my mom that I support her," says Bloom, of Lawrence.
Bloom and many others will take to their feet Oct. 17 at the American Cancer Society's Make Strides Against Breast Cancer walk in Topeka.
Bloom's mother, Martha Burt, was diagnosed with breast cancer around Valentine's Day 2010. Bloom says that the ACS helped her and her mother along the way, so she wants to help with this fundraiser. So far, she's raised $400 on her own. As the team captain of Stepping Stones Fights Back, she has set a fundraising goal of $700 for the team. And, they'll be wearing superhero outfits to boost team spirit and make the event more fun.
When her mother was diagnosed, Bloom took her to visit a friend who works at ACS in Topeka. The friend helped Burt pick out a wig, head scarf and turban that she felt good about wearing when she lost her hair.
"My mom's the type that doesn't want to run away from diagnoses like this; she wants to dive right in and get as much information as possible," Bloom says. "ACS really helped her get some of her questions answered."
In addition to Bloom's team from Stepping Stones, Bloom's whole family will be at the walk, including her mother and her sister, Molly Burt. Martha will be sporting a breast cancer survivor sash, and she plans to walk.
"Actually I'm just starting to feel good enough," she says.
She is trying to get in shape, but she says she's excited just to be there and believes it will be a happy atmosphere.
This is the first Making Strides in Northeast Kansas, and both Bloom and the ACS are planning on making it a regular event.
Jill Sittenauer, regional communications director for ACS, says that Making Strides events have been going on in the U.S. since 1993. This year, there will be more than 200 events in different communities. In Topeka, 117 teams have signed with three weeks until the event.
"The neat thing about Making Strides Against Breast Cancer is that women who have been touched — either themselves or a mother or grandmother — are for the most part active and outspoken about finding cures or treatments for the disease. So, having a specific event to raise awareness for women to get mammograms and about research money, gives these women an opportunity to get together to share information and march around the capital," Sittenauer says.
Corrine Krei, of Lawrence, says she has formed a team with her co-workers at Beauty Brands.
"I honestly personally don't have any family members or friends who have gone through the whole process of breast cancer, but I just know raising money for it is a great cause," Krei says.
Her team is selling pink ribbon cards that clients can write their name on and post on the beauty shop mirrors. Krei said the cards recognized Beauty Brands clients for their donations.
In a column, Jason Eberhart-Phillips, Kansas State Health Officer, says that there are nearly 2,000 cases of breast cancer among Kansas women each year.
"Despite exhaustive efforts to reduce the risk, there has been no real change in breast cancer rates in Kansas in the past 10 years. Year in and year out, approximately 380 women die from breast cancer here annually," he wrote.
The Strides event will raise money to fund research and other ACS breast cancer projects, including Reach to Recovery and Look Good, Feel Better. In the first, newly-diagnosed women are paired with a cancer survivor who underwent similar treatments and had similar experiences. The survivor helps the newly diagnosed woman understand the process and provides support.
Martha Burt took advantage of the Reach to Recovery program.
"I talked with a survivor and she gave me lots of insights, resources to look at, and moral support," she says.
The second program, Look Good, Feel Better, recruits volunteer stylists to put on classes to help diagnosed women learn how to pick out and style a wig and apply makeup.
"Studies have shown that women who look better and feel better about themselves actually respond better to treatments," Sittenauer says.
Registration for Making Strides Against Breast Cancer starts at 1 p.m., and the walk begins at 2 p.m. Sunday. The walk will take place downtown and around the Capitol building. For more information, visit www.makingstridestopeka.org.
Copyright 2018 The Lawrence Journal-World. All rights reserved. This material may not be published, broadcast, rewritten or redistributed. We strive to uphold our values for every story published.