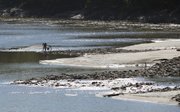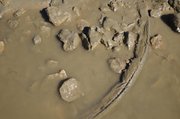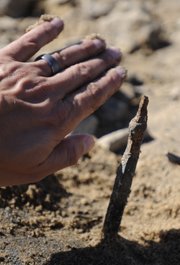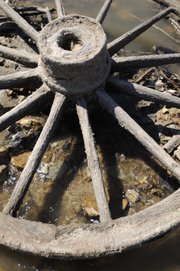 Luke Stone believes he has found a pioneer covered wagon in the Kansas River just east of Second Street.
On Thursday, the Lawrence resident and a friend went to see about building a sculpture on a muddy island in the middle of the river.
Instead, Stone found what he believed to be a piece of the past.
"We stumbled upon a huge wagon wheel," said Stone.
The wheel was too heavy to pick up so he went home and started doing online research about wagon wheels. He said everything he saw online looked exactly like what he saw in the river.
"I saw the thing the wagon is pulled by and the hinge that it locks to and I saw the sides and the frame," he said. "It was a metal frame that had been bent."
The Oregon Trail used to run through this region and such a find is possible. But Wakefield Dort, emeritus professor at Kansas Univesity who has been studying the geology and history of the river for more than 50 years, says because of corrosion it's not likely the pioneer wheel would have survived.
"In the 1951 flood the river was extremely powerful and there were large machines that were washed down and broken up so it's unusual to have any object, even not that old, preserved," said Dort.
The geologist says it's more likely to find objects such as bison bones in the river because they can be preserved easier.
But Dort isn't counting out the possibility of the pioneer wheel find. He says at this point it's too early to tell.
"We don't know enough about it yet," he said. "It's going to take a professional crew to get down there and dig it up properly."
Copyright 2018 The Lawrence Journal-World. All rights reserved. This material may not be published, broadcast, rewritten or redistributed. We strive to uphold our values for every story published.