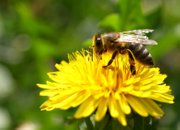 Washington — The mysterious deaths of billions of honeybees since 2006 that have harmed the agricultural industry may be caused by a common fungus and a previously unknown virus, University of Montana researchers say.
The virus, Invertebrate Iridescent Virus, or IIV6, seems to work together with the Nosema fungus to kill the bees, said the researchers, Colin Henderson and Jerry Bromenshenk, in findings published in the online science journal PLoS ONE. The bee disease known as Colony Collapse Disorder first appeared in 2006 and causes entire hives to die off without explanation.
Honeybees pollinate $15 billion of U.S. crops each year, according to the Department of Agriculture, and companies from General Mills and Clorox use pollinated crops in their products. Scientists had looked toward viruses and fungal infections as a cause of the disorder. The disease has been reported in at least 35 states and been found in Europe, Asia and South America.
"We have a strong suspect, I'm convinced we have what it is," Henderson, an associate professor at the university's College of Technology, said in a telephone interview.
Since the first outbreak in 2006, the disorder has showed up in 26 percent to 36 percent of hives each year, according to a survey released in April by the Department of Agriculture.
Bees are essential for the health of pollinator-dependent crops such as almonds and blueberries.
Copyright 2018 The Lawrence Journal-World. All rights reserved. This material may not be published, broadcast, rewritten or redistributed. We strive to uphold our values for every story published.