Minneapolis — Indoors or outdoors, the New York Yankees still own the Minnesota Twins in the playoffs.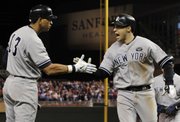 Mark Teixeira hit a tiebreaking, two-run homer in the seventh inning, and the Yankees rallied to a 6-4 victory Wednesday night in Game 1 of the AL division series, the Twins' 10th straight postseason loss.
"Game-winning homers," Teixeira said with a wide smile on his face, "there's nothing better."
Yankees ace CC Sabathia labored, but reliever David Robertson fanned Jim Thome in a key spot, and Mariano Rivera got the final four outs to close another win for the defending World Series champions. The Yankees rallied from a 3-0 deficit against Francisco Liriano and improved to 10-2 against the Twins in the playoffs since 2003.
Even a blown call by the umpires — shades of the last two postseasons — that went against the Yankees with two outs in the bottom of the ninth didn't hurt them.
"It's just bad luck for Minnesota. We just keep fighting. That's a great team over there. We've played a lot of tough games against them," Teixeira said.
Michael Cuddyer homered, doubled and drove in two runs for the Twins, who played their first outdoor postseason game in Minnesota since 1970. They were hoping a move from the shabby Metrodome outdoors to gorgeous Target Field would turn their fortunes around, but it was more of the same against the mighty Yankees.
Game 2 is tonight. Carl Pavano will pitch for the Twins against Andy Pettitte.
Jorge Posada had two hits and an RBI, and Curtis Granderson added a two-run triple for New York, which has never won a postseason series as a wild card.
Rivera recorded his 40th career postseason saves in 45 chances, but had to work a little harder than he planned. Replays showed Yankees right fielder Greg Golson — inserted that inning for defensive purposes — caught Delmon Young's sinking liner for what should've been the last out.
But right-field umpire Chris Guccione ruled that he trapped it, and the call stood after the umpires huddled. Manager Joe Girardi came out to argue, but to no avail.
"They got together and talked about it. It's not that they were out of position. It happens," Girardi said.
In fact, the Yankees benefited against the Twins in the playoffs last year when a ball Minnesota hit that clearly landed fair was called foul.
This time, the missed call brought Thome to the plate as the potential tying run. Rivera retired the slugger on a popup to third baseman Alex Rodriguez to end the game.
"Mo did a great job there," Teixeira said. "Should have been four outs in a row."
Rivera came into the game in the eighth with runners at second and third and retired Denard Span on a grounder to preserve a two-run edge.
Liriano gave up four runs on six hits with seven strikeouts and three walks in 52⁄3 innings for the Twins.
The Dominican lefty breezed through the first five innings of his first career postseason start, allowing just four hits as the Twins jumped out to the early lead.
Cuddyer crushed a two-run homer into the trees in center field in the second inning, and Orlando Hudson scored on a passed ball in the third to make it 3-0, as more than 42,000 fans at jam-packed Target Field leaped to their feet.
But these power-packed Yankees, who swept the Twins in the ALDS last season en route to their 27th title, don't rattle so easily.
During the regular season, the Yankees overcame deficits of three runs or more to win seven times, according to STATS LLC, and led the majors with 48 come-from-behind victories. Seven of their 11 victories in the postseason last year came after they fell behind, including all three against the Twins.
"There's disappointment," Twins manager Ron Gardenhire said. "We had a lot of big opportunities and some big at-bats. We just couldn't take advantage of our opportunities."
Their latest started in the sixth against Liriano, who retired 10 in a row before Teixeira doubled down the left-field line. Liriano walked Rodriguez and Robinson Cano and Posada followed with RBI singles to make it 3-2.
Rather than go to Jose Mijares in the bullpen, Gardenhire stuck with Liriano against the lefty Granderson, who came into the game hitting just .234 in 158 at-bats against lefties. Before the game, Girardi was asked about going with Granderson, who was 4-for-22 against Liriano. The center fielder made Girardi look pretty smart, hitting a triple off the scoreboard in right-center field to give the Yankees a 4-3 lead.
Copyright 2017 The Associated Press. All rights reserved. This material may not be published, broadcast, rewritten or redistributed. We strive to uphold our values for every story published.