Topeka — In about the time it takes to make a frozen pizza, Kansans will have that much time to see the candidates for governor in their only televised debate.
The event will start at 6:30 p.m. Thursday at KWCH-TV studios in Wichita.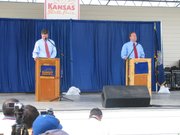 It will go until 7 p.m. with two commercial breaks. All four candidates on the ballot have been invited to share their views with the public. The debate will also be streamed live on KWCH.com.
The candidates include Democrat Tom Holland, Republican Sam Brownback, Libertarian Andrew Gray and Reform Party candidate Ken Cannon.
Holland and Brownback, the major political party candidates, have shared the stage once during the campaign.
That was at the traditional State Fair debate held Sept. 11 in Hutchinson. That debate was recorded for broadcast later on the radio.
Since then, the two camps have been dueling about debates.
Brownback agreed to debate Holland on a Topeka radio show, but Holland declined because the moderators are conservative talk show hosts and his campaign said it was unfair to other media to agree to a debate sponsored by the the same station that had done the State Fair debate.
Holland has called on Brownback to have at least three more face-offs, noting that Brownback made room in his schedule for nine debates when he was running for the Republican Party nomination for president in 2007.
But Brownback has said he is too busy campaigning across the state. Brownback, a U.S. senator, said he agreed to the Wichita debate because he said an early Senate adjournment allowed time in his schedule.
Chapman Rackaway, an associate professor of political science at Fort Hays State University, said from 1978 through 2006, gubernatorial candidates averaged approximately six debates.
At the State Fair debate, Holland, who faces an uphill climb against the better known and better funded Brownback, came out swinging.
Holland, a state senator from Baldwin City, accused Brownback of being in the pocket of special interests at the expense of every day Kansans, while Brownback tried to tie Holland to President Barack Obama.
Copyright 2018 The Lawrence Journal-World. All rights reserved. This material may not be published, broadcast, rewritten or redistributed. We strive to uphold our values for every story published.