Kansas University junior forward Emily Cressy scored the only goal, and sophomore goalkeeper Kat Liebetrau and the KU defense shut down Texas in a 1-0 KU victory over the Longhorns on Sunday at the Jayhawk Soccer Complex.
Photo Gallery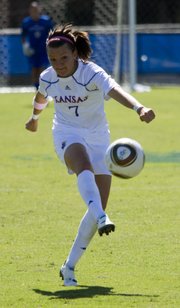 KU soccer vs. Texas
The KU soccer team beat Texas 1-0 on Sunday, October 3, 2010.
It was KU's first Big 12 victory of the season and only the second over UT in Kansas 15-year program history.
"I thought we played really well today," Jayhawks coach Mark Francis said. "Texas is a good team; they've beaten some really good teams this year. I was happy that we put together a consistent performance for 90 minutes, and I thought the kids competed really well today. We didn't back off the whole time today. That was probably the biggest thing today."
KU improved to 5-7 overall, 1-3 in the Big 12. UT fell to 7-3-2 and 0-2-1.
It was Kansas' first victory over Texas since 2005.
Neither team could muster much offense Sunday, but KU finally broke through in the 65th minute. After a scramble in front of the Texas net, freshman Caroline Kaster hit senior Erin Ellefson with a pass on the near side of the box, and Ellefson's shot ricocheted off Texas goalkeeper Alexa Gaul. The ball came off toward the far side of the box, where Cressy finished with her right foot.
The Kansas defense — led by seniors Lauren Jackson, Caitlin Noble and Geneva Magness, as well as sophomore Shelby Williamson — made the goal stand up. The Jayhawks posted their fourth shutout of the season, holding Texas to just 12 shots and four shots on goal.
"Our game plan today worked well," Francis said. "We sat back, and let them have the ball in there, but once they came up to our line of pressure we tried to pressure the ball and force them to turn it over. That seemed to work pretty well. We did a good job of staying disciplined and sticking to the game plan."
Texas recorded 12 shots to KU's 10.
The match was KU's annual "Jayhawks for a Cure" contest as the team wore pink warm up tops and took donations to help support the fight against breast cancer.
"We just need to keep up the intensity," KU sophomore forward Whitney Berry said. "We had a great weekend on both sides, even though we lost on Friday it was still a great game. I think if we just continue to play at this level, we'll be good."
Copyright 2018 The Lawrence Journal-World. All rights reserved. This material may not be published, broadcast, rewritten or redistributed. We strive to uphold our values for every story published.