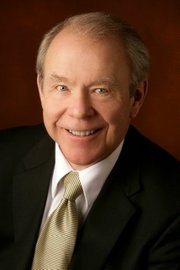 For generations, Weaver's has been where Lawrence's high school girls shop for prom dresses, young couples register for weddings and parents take their children to sit on Santa's lap.
With its pneumatic tubes, makeup counters and holiday gift wrapping, Weaver's oozes with the nostalgia that comes from being one of the country's oldest department stores. The clothes, however, are thoroughly modern.
Key to finding the balance between keeping up with fashion trends and holding onto the charm of a long-ago era is the store's president, Joe Flannery.
Flannery started work at Weaver's when it still had millinery and piece goods departments. He has helped sell bell bottoms, leisure suits and Cabbage Patch Kids. Today he is talking about next season's skinny jeans.
"I just think Joe deserves a lot of credit for running an independent department store. There aren't many left in the world. And, I think it takes a tremendous amount of knowledge and skill to make it succeed," said Earl Reineman, Weaver's vice president.
Flannery, who is just the fifth man to lead Weaver's in its 153-year history, is among the inaugural inductees into the Lawrence Business Hall of Fame.
"To be part of the inaugural class is probably one of the nicest things that has ever happened to me," Flannery said. "It is a great honor and something that I never expected."
Flannery's first job at Weaver's was in the store's record department. He was in high school and selling the Beatles, Rolling Stones and Moody Blues.
"Every month there was great new music coming out," he said. "It gave me a good sense of how fun retail could be."
In 1962, Flannery's father, Larry Flannery Sr., was among a group of Kansas investors who purchased Weaver's from A.B. Weaver, whose family had owned the business since 1886. Even though his father was the head of store, it wasn't predetermined that Flannery would enter the family business.
During his last semester of college at Kansas University, Flannery went out to lunch with his father, who asked him whether he wanted to work at the store. Flannery told him he would think about it.
"And I did. I said I would do it for two years to see how he liked me and I liked him," Flannery said.
Flannery ended up staying for 38 years.
In 1987, while on a buying trip to New York City, Larry Flannery died from a heart attack. Shortly afterward Joe Flannery was named president. A little more than a year and half later, Flannery hired Reineman as vice president. Reineman had been working as a senior merchandising manager for J.C. Penney.
Flannery said his business model focuses on three P's: people, product and price.
"My dad taught me what was really important in business and that is the relationships you form with your staff and customers," he said.
While Flannery is the face of Weaver's, his work often takes him to New York City, Minneapolis and Dallas. Weaver's buying group allows the store to be competitive and offer the same brands as Dillard's, J.C. Penney, Nordstrom and Saks Fifth Avenue.
"We have often said that without our connection in New York, we probably wouldn't exist," Flannery said. "We have the same styles as in many national department stores. And without that affiliation, I don't think we could keep up."
Flannery studies the latest fashion weeklies to keep the downtown department store relevant in a world that is changing.
In Flannery's early years, downtown was still home to grocery stores, car dealerships and banks. In 1980, Weaver's existence seemed threatened as other major businesses abandoned downtown and talk circulated of building a suburban mall on South Iowa Street.
"It would have been very easy for the Flannery family to throw a fit over the prospect of a cornfield mall," former Lawrence Mayor Sue Hack said. Instead, Flannery expressed the store's concerns in a civil manner, which Hack noted can be a rarity.
"A survivor, but doing it with such class and grace to me exemplifies Joe and his family," she said.
Flannery and Sue Hack go back decades to when Flannery was her husband Al's pledge son in Sigma Alpha Epsilon fraternity. They have been close friends ever since going to football games and raising their children together.
"I think he is very grounded. He is probably one of the kindest, most thoughtful people that I know," Hack said.
Flannery has been a leader outside of Weaver's as well. He is the chair of the Lawrence Memorial Hospital board. Along with bringing the perspective of a lifelong Lawrence resident and a successful business owner, Flannery has helped push forward the major expansion of the hospital, LMH CEO and President Gene Meyer said.
"Joe is very deliberate in speech and action," Meyer said. "But at the same time … he is very quick to get a decision and the input it takes to make a decision."
Despite nearing retirement age, Flannery doesn't envision quitting anytime soon.
"I really enjoy this business. And, that is why when people ask me about retirement, I say it's not even on my mind."
Copyright 2018 The Lawrence Journal-World. All rights reserved. This material may not be published, broadcast, rewritten or redistributed. We strive to uphold our values for every story published.