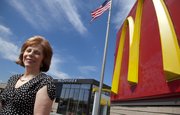 When Marilyn Dobski and her husband, Tom, opened the first of their 13 McDonald's restaurants in 1981, the menu consisted mostly of french fries, hamburgers and shakes.
Since then there have been chicken McNuggets, the not so successful McLean sandwich with its seaweed extract and the popular McCafe.
"I can't even tell you over the years how many products have come and gone," Marilyn Dobski said.
With all the changes, one thing has stayed constant in Marilyn Dobski's 29 years of McDonald's franchise ownership. You could call it the Golden Arches Rule.
"We always try to treat our people the way we want to be treated," Dobski said.
That, and making sure the customer's experience is a top priority — from the landscaping outside to the restroom inside.
Case in point, not long ago Marilyn and Tom recently paid a visit to their Bonner Springs restaurant and noticed the men's room needed to be cleaned. So out came the mop and towels.
"We've never been afraid to jump in and do what needs to be done," Marilyn Dobski said.
This spring, Marilyn Dobski was named as one of the inaugural members of the Lawrence Business Hall of Fame.
Perhaps the hands-on, can-do mentality comes naturally for someone who grew up in a working-class Italian neighborhood in Chicago.
Marilyn and Tom met at DePaul University. At first, Marilyn taught school and Tom worked in the family's grocery business with his two brothers. The family owned a chain of grocery stores in the Chicago area but was looking to sell when business became too competitive with the arrival of big box stores.
Tom's brother, Tony Dobski, had looked into owning a fast-food franchise and decided McDonald's was the best one. He soon took ownership of a McDonald's in Covington, Tenn.
Tom decided to follow his brother. The couple began McDonald's training, known as Hamburger University, to become an owner. In 1981, McDonald's offered Marilyn and Tom the chance to purchase the store in Leavenworth. They said yes.
"We packed up, sold our house and moved lock, stock and barrel," Dobski said.
Over the next three years, the couple opened stores in Atchison and Bonner Springs. In Atchison, students had camped out the night before the restaurant opened to be the first in line. So it was no surprise the restaurant broke 10 regional records for opening day, week and month sales.
In 1988, the family received an offer to acquire two McDonald's in Lawrence.
Over the next decade, the couple opened another McDonald's in De Soto and three more in Lawrence in Wal-Mart, on Massachusetts Street and on Wakarusa Drive. They also opened four McDonald's in Topeka.
Lawrence's Wal-Mart and downtown store closed a few years later, but the Dobskis opened new ones on Iowa Street, along I-70 and in Shawnee. The couple's son Michael, who had been working for the family, purchased the Shawnee restaurant two years ago.
As the Dobskis' business has grown to 13 stores and 700 employees, Marilyn Dobski said people remain the key to success.
"In the fast-food business, you think of high turnover. But in the management and support staff ranks, we are very fortunate to have wonderful people with us," she said.
Dobski's willingness to step forward and do the job that needs to be done extends beyond her business.
The Rev. Mick Mulvany, pastor of Corpus Christi Catholic Church, remembers the first time he met Marilyn Dobski. She was on trash can duty during the church's Italian Festival Dinner.
"She had a big trash can in front of her and she was emptying out one bag and putting in another. And that really sort of epitomizes how involved she is," Mulvany said. "If there is a charitable event Marilyn is there. And, I think she understands the blessings that are hers and the call to return that to the people around her."
From helping arrange tile at the new Lawrence Arts Center building to attending heated public meetings on the arts center's expansion, Dobski took a similar approach while serving on the arts center's board, former director Ann Evans said.
"Every step along the way, she was there and participated and remembered and did things," Evans said of Dobski, who was key in helping the arts center plan for and open its new building in the 900 block of New Hampshire.
Dobski has been key to attracting outside resources, said Bradley Warady, who is Children's Mercy Hospital's interim chairman of the pediatrics department.
Representing the Ronald McDonald House Charities, Dobski co-chaired a project with Warady to build a Ronald McDonald House family room at Kansas University Medical Center and Children's Mercy.
The room, which allows for families to have a place to stay when they can't or won't leave the hospital because of a severely ill child, was the first of its kind when the project began in 1995. Today, the Ronald McDonald House Charities has more than 150 family rooms throughout the world.
"(Dobski) had not only the insight, but the clout within McDonald's to be able to get us at the table so we could discuss this brand new concept and to convince them to let us give it a chance," Warady said.
The two continue to work on Ronald McDonald House projects together. And Warady noted despite her Hall of Fame honor, she isn't near done with her work.
"This will probably stimulate (Dobski) to do even more, which I think is the great thing about her," Warady said.
Not surprisingly, when Dobski received a call from the Hall of Fame, she was sure they wanted her to serve on a committee, not induct her.
"When people have asked me about the Hall of Fame, I've said, 'Well, anyone in the Hall of Fame is either dead, really old or retired. And I don't think I'm any of those,' " Dobski said. "It will be really exciting to see in the future who will follow in our footsteps. Because I have taken this as a true honor for my profession and community service to Lawrence."
Copyright 2018 The Lawrence Journal-World. All rights reserved. This material may not be published, broadcast, rewritten or redistributed. We strive to uphold our values for every story published.