Karlovy Vary, Czech Republic — Tamika Catchings scored 14 points to lead the United States to a 106-70 victory over Spain and into the gold-medal game of the women's basketball world championship.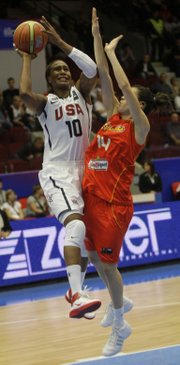 Sylvia Fowles added 13 and Diana Taurasi 11 for the Americans (8-0), who will face the host Czech Republic for the title today. It sets up a similar gold-medal matchup to the men's worlds, where the U.S. beat host Turkey to win the gold.
"Tomorrow night is going to be in one of the most difficult changes for this team, playing the Czechs on their home court with all their fans," U.S. coach Geno Auriemma said. "It's been a Cinderella run for them. The emotions and energy this building is going to have. This will be a great place to be tomorrow."
The U.S. once again got off to a strong start — scoring 11 of the first 12 points — in making up for a bronze-medal finish at the 2006 worlds, where it lost to Russia in the semifinals. The Americans will be trying for their eighth gold medal in the worlds.
"It's going to be very important to get off to a great start," point guard Sue Bird said. "You can play in a lot of games, WNBA, college, and not the entire building is going to be cheering against you. We'll have our little section."
Marta Fernandez had 16 to lead Spain (6-2), which will take on Belarus for the bronze.
The Americans have run through their opponents, winning by 37 points a game. It's the most dominant performance ever by the U.S. at a world championship. How good is this team? They haven't trailed at all in the last four games and for only 21 minutes the entire tournament.
Baseball
Royals pick up option on DeJesus
Kansas City, Mo. — The Kansas City Royals have exercised their $6 million option on outfielder David DeJesus for next season.
The 30-year-old DeJesus played in only 91 games this year. He had season-ending surgery on his right thumb after crashing into the fence at Yankee Stadium. DeJesus was batting .318 with 23 doubles, three triples, five home runs and 37 RBIs.
Golf
Haas struggles but still leads
Madison, Miss. — Bill Haas shot a 3-under 69 to take a four-stroke lead at the Viking Classic on Saturday, overcoming three bogeys and a double bogey after playing error-free the first two rounds.
Couples clings to slim margin
Conover, N.C. — Fred Couples shot a 6-under 66 Saturday to take a one-stroke lead over Bernhard Langer into the final round of the Ensure Classic.
Cycling
Another Spanish cyclist suspended
Madrid — Spanish cyclist Margarita Fullana admitted to doping Saturday after the International Cycling Union revealed that a urine sample contained the banned substance EPO.
The 38-year-old becomes the fourth Spaniard this week to be provisionally suspended after the UCI reported that three-time Tour de France winner Alberto Contador had tested positive for clenbuterol. Spanish Vuelta runner-up Ezequiel Mosquera and teammate David Garcia da Pena had positive tests for hydroxyethyl starch.
Soccer
O'Reilly helps U.S. beat China, 2-1
Kennesaw, Ga. — Heather O'Reilly and Megan Rapinoe scored in the first half to power the U.S. women's team to a 2-1 victory over China on Saturday night.
The U.S. is 9-0-1 this year and is unbeaten in 47 consecutive matches on home soil.
Wizards' playoff hopes in peril
Harrison, N.J. — Dane Richards scored a first-half goal, and the Red Bulls clinched a spot in the MLS playoffs.
Kansas City (9-11-6) was 5-2-3 over its previous 10 games. The Wizards remained at 33 points and are in danger of missing the playoffs.
Tennis
Garcia-Lopez upsets No. 1 Nadal
Nonthaburi, Thailand — Less than three weeks after completing his career Grand Slam, Rafael Nadal was a long way from his command performance at the U.S. Open.
The top-ranked Spaniard was knocked out of the Thailand Open on Saturday, losing 2-6, 7-6 (3), 6-3 to 53rd-ranked Guillermo Garcia-Lopez in the semifinals.
Wozniacki wins Pan Pacific
Tokyo — Top-seeded Caroline Wozniacki recovered from a slow start to beat Elena Dementieva, 1-6, 6-2, 6-3, in Saturday's final of the Pan Pacific Open.
Ferrer upended in Malaysia
Kuala Lumpur, Malaysia — Andrey Golubev of Kazakhstan upset No. 11-ranked David Ferrer of Spain, 7-5, 7-6 (4), on Saturday to reach the Malaysian Open final.
The 41st-ranked Golubev also ousted top-seeded Robin Soderling in the quarterfinals.
Auto racing
Franchitti captures third title
Homestead, Fla. — Dario Franchitti won his third IndyCar championship on Saturday, wearing down points leader Will Power and then smartly avoiding disaster in the season finale at Homestead.
Franchitti celebrated with a trademark burnout while owner Chip Ganassi shared a hug with Franchitti's wife, actress Ashley Judd.
NFL
Jets LB Pace ruled out
New York — Jets linebacker Calvin Pace has been ruled out for the fourth straight game due to a broken right foot that has sidelined him since late in the preseason.
Saints sign RB from practice squad
New Orleans — The New Orleans Saints have signed running back DeShawn Wynn from their practice squad, a move coach Sean Payton has suggested he would make if Pierre Thomas were unable to play today.
Copyright 2018 The Associated Press. All rights reserved. This material may not be published, broadcast, rewritten or redistributed. We strive to uphold our values for every story published.