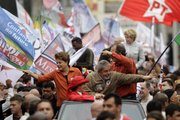 Sao Paulo — The emcee's voice begins rising to a crescendo rivaling that of any Las Vegas ring announcer, a yell driving through a dense tropical rain that concisely explains what Brazil's adored president means to his nation.
"He is the man who turned our dreams into reality!" the host screams into the night, his words ringing in the ears of 10,000 people at the last election rally the leader would attend. "President. Luiz. Inacio. Lula. Da Silvaaaaaaaaaa!"
The crowd goes wild on cue, like they always do when Silva takes center stage.
"My beloved comrades ..." Silva begins, but his raspy voice is drowned out by cheers.
Silva's eight-year rule begins its end today, when Brazilians vote for a new president. Over that time, a nation forever seen as not living up to its potential and suffering from serial self-doubt has evolved into a country of 190 million people with immense economic might, rapidly growing political clout and model programs for social transformation.
"Historically, he will be considered one of the most important leaders of the 21st century," said Peter Hakim, with the Washington-based Inter-American Dialogue, who first met Silva in the 1980s. "He will walk away as being one of the great Brazilian heroes."
Silva, armed with a near-80 percent domestic approval rating, is one of the loudest moral voices of the developing world, boldly lashing out at what he considers economic and political injustices rich nations hand down to poorer countries. He hammers away at what he says is a global trade system favoring wealthy nations and invokes the responsibilities former colonial powers have toward impoverished lands they once ruled.
Despite early fears the leftist leader would turn Brazil socialist, Silva fought off the more radical wings of his Workers Party and used orthodox economic policies to lead the country to unprecedented growth. Brazil is forecast to be the world's fifth-largest economy by the time it hosts the Olympics in 2016, the first time the Games will be in South America. His programs are credited with lifting 20.5 million people from poverty since 2003 and boosting another 29 million into the middle class — creating new consumers who help drive the economy.
"Lula has given great benefits to the poor, but the greatest one was dignity," said Silvia Silveira, a 53-year-old woman at the rally who scratches out a living by selling water and soda out of a cooler in central Sao Paulo. "He has given the poor like me a sense we have a voice in the government, something that has not happened since Brazil was discovered 500 years ago."
Silva's ascension to power did not come easy. He was only successful on his fourth run at the presidency, when in 2002 voters decided to give him a shot. It was a watershed moment in Brazilian politics, handing the office to a one-time shoeshine boy with a fifth-grade education, making him the first working-class leader ever elected.
Short, pudgy and bearded, Silva is seen by analysts and politicians around the globe as the one guy in a room who can routinely get away with bluntly telling everyone what they are doing wrong and how they should fix it — and have them admire him in return.
Early last year, President Barack Obama was still riding a wave of global popularity but said the title of the "world's most popular politician" belonged to Silva. "This is my man, right here. I love this guy," Obama said during a lunch at a Group of 20 summit in London.
Just a week before Obama made those comments, Silva sharply criticized the U.S. and other rich nations for the financial crisis that was unfolding. With no small dose of aplomb, Silva said the meltdown was caused by "white people with blue eyes" — a phrase uttered as he stood next to then British Prime Minister Gordon Brown at a news conference in Brasilia.
He was cheered for months across the developing world for the pointed remark.
Silva, 64, is not without his critics, particularly when it comes to Brazil's foreign policy. In his eight years, the nation that historically tacked well toward meeting Washington's suggestions embraced Venezuela's Hugo Chavez, Cuba's leadership and Iranian President Mahmoud Ahmadinejad. Brazil, along with Turkey, in May brokered a nuclear-fuel swap deal with Iran — which was labeled as a naive intervention in some foreign-policy circles and has not been enacted.
Copyright 2018 The Associated Press. All rights reserved. This material may not be published, broadcast, rewritten or redistributed. We strive to uphold our values for every story published.