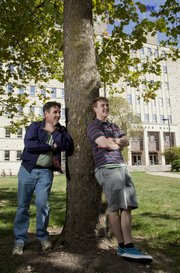 Do's and don'ts for parents of college students
Some advice for parents from Kansas University's Office of Student Success:
DO:
• Support the transition to adulthood. Parents can gradually give students more authority to make their own decisions as students demonstrate more self-discipline, self-respect and personal responsibility. This independence doesn't have to mean emotional distance; connections can grow as a student's self-image can be bolstered by his or her parents' confidence and trust.
• Expect different responses to homesickness. While many students have a normal longing for comfort and security of family and old friends, others can be so involved with their new surroundings they experience no homesickness at all. Greet calls and e-mails expressing homesickness with support and reassurance.
• Establish financial ground rules. While there's no single answer, planning ahead by preparing a list of expenses and assessing sources of income will help. Decisions like how differences will be covered and at what intervals parents will provide their portion should be discussed, along with emergency plans.
• Become aware of KU's parental notification policy. KU does notify parents of students under the age of 21 in some cases, including violations of university policy or state law regarding drugs and alcohol or violations that result in the cancellation of a student's university housing contract.
DON'T:
• Pop by unannounced. It's a good idea to plan campus visits in advance, as unplanned trips can be a surprise for everyone. Visiting too early or too often should be avoided. Though most students welcome visits from parents, it's good to discuss expectations about those visits in advance.
• Expect the same level of access to students' records as in high school. Things like grades, class schedules, student billing accounts, medical records and financial aid awards are accessible only to the student, unless they give written consent for others to access them.
• Expect visits home to be the same as before. Old rules and curfews may be challenged — and if parents have some nonnegotiable rules, it's good to talk about those upfront so everyone understands them.
• Look for magic, catch-all answers to issues that arise. Every family is different and deals with differing levels of expectations. Find what works for you.
Making the transition from going to Free State High School to attending Kansas University has been smooth for KU freshman Alek Joyce and his parents.
Though Alek's parents, Jim and Holli, live just blocks from campus near Ninth and Arkansas streets, they've each had to adjust to new realities as their son left for school.
His parents have pulled back from the level of involvement in their son's life, ensuring that Alek is advocating for himself more and more often.
"I've made it clear that his dad and I are there for our advice, and we're there for support," his mother said. "This is his experience."
Still, parents are typically more involved than ever with their children's lives at college, thanks to the rise of electronics, said Jane Tuttle, KU assistant vice provost for student success.
"Students do talk to their parents more than they used to," Tuttle said. "Technology makes it easy."
Though she doesn't like the term "helicopter parents" swooping in and becoming too involved, Tuttle said it's important for students and parents to talk before they arrive on campus and set some ground rules.
For the Joyces, Holli can typically catch up to Alek quickly using a text message. Jim doesn't text, but he'll occasionally drop a quick message on Facebook so he isn't too intrusive on Alek's busy schedule.
KU has set up a parents' hot line to help guide parents to the right place, and Tuttle helps put together a parent newsletter that keeps parents informed of happenings at KU.
If parents call, KU tries to meet their needs but can't always accommodate everyone. Many records — including grades and financial statements — are private unless students and parents sign a waiver. KU officials encourage families to make a decision on those issues during their new student orientation programs.
"Parents have a variety of levels of involvement," Tuttle said, saying the vast majority of dealings with parents were positive.
Occasionally, parents will call up hoping to find their children, and KU has occasionally tracked down students in class for parents having a hard time getting in touch — though in some cases, Tuttle said, the students will say they just don't want to talk to their parents at the moment.
That's why Tuttle said it's important to talk about expectations in advance, about everything from visits home to finances and grades. Those decisions can vary widely among families.
Some KU students — such as senior Cameron Casady — become a little more detached the more they advance through school.
"Overall, I think they don't know a lot of stuff, but it's not like I'm trying to hide it from them," he said.
Paul Koch, a KU business professor, has watched four daughters come through the university. Their house was in some cases closer to his daughter's classes than their residence halls at KU. Their family is very close, and in many cases the daughters will take care of one another, bringing their parents in later.
"There's a lot that we have come to be aware of that we didn't know at the time, and I think that's terrific," Koch said.
In the Joyces' case, Holli said that, for Alek, there wasn't a choice when it came to providing access to grades — if his parents were paying for college, they were entitled to that information. Alek said he agreed, and that the arrangement made sense to him.
And as Alek juggles many responsibilities, including a time-consuming architecture curriculum and a new spot on KU's Student Senate, he said he appreciated his parents' assistance sometimes, such as having a spot to do laundry or take a quick nap.
"I've made the effort to try and contact them every single day," Alek said. "It's really nice sometimes to have some support."
Jim Joyce said he's come to appreciate his son's schedule and enjoys the times he gets to spend with him.
"If he comes home to do laundry or something, it's always nice to see him, but you've got to give him some leash," he said.
Copyright 2018 The Lawrence Journal-World. All rights reserved. This material may not be published, broadcast, rewritten or redistributed. We strive to uphold our values for every story published.