Hutchinson — Behind the prison wall they gathered like family around the dying man's hospital bed.
Offering compassion, as well as an abundance of warmth and laughter, nine inmates inside the Hutchinson Correctional Facility's Central Unit were helping a hospice patient feel comfortable.
They are hospice volunteers at the prison clinic. It's the same program that people outside of prison rely on when a loved one is in the end stage of life. The only thing missing is the patient's family involvement.
But that's where the volunteers play a vital role caring for their fellow inmates by helping them to the toilet, cleaning them. Sometimes they just sit and hold the patient's hand.
After starting the program six years ago, Laura Webster, RN, director of nursing at the prison facility, has been amazed at how this current group of men meshed together and into the work.
"They are inmates," Webster said "They have done something bad to come to prison and this is a way that they can help out."
She said volunteer service helps them rebuild their self-esteem. She noted that they still have their daily prison jobs; they don't get paid to do this. They just want to help.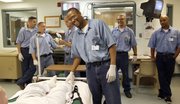 'Light Behind the Wall'
Rudy Anderson and Isaac Allen are the old timers at hospice, Webster said. She is currently training six new volunteers, Carlos Ballesteros, Marques Blassingill, Chad Engro, Robert Shanklin, Joshua Kaiser and Quinton James, as well as adding a new prisoner Michael Greer, who recently transferred and was a hospice volunteer at another prison.
"Dying with dignity," Webster said is part of the hospice philosophy. This group has named themselves the "Light Behind the Wall." According to their mission statement, the volunteers understand the circumstances that placed them in this unique situation, and they take pride in being able to provide needed services to their fellow men, in this correctional environment.
Webster explained that Rudy Anderson was in her first training group and Isaac Allen was in the second. In Allen's class he was the only inmate who stuck with the training.
For Anderson, watching his grandmother die and seeing how hospice helped his family through the difficult time led him to sign up for Webster's first hospice class about six years ago. He had felt overwhelmed and thought the training might better help him cope with death.
'Spiritual motivation'
Despite the training, Anderson still admits to times when sitting with a dying man can be overwhelming.
Allen said serving a long prison sentence has been the impetus for becoming a volunteer.
"It's possible I will die here and in my last days I want someone to care for me," Allen said. But he admits it's not something everyone can do. Especially when the patient has lost control of body functions.
"Guys don't want to see awful things," he said. However, he and his fellow volunteers have moved past those hang ups.
Michael Greer said a difficult aspect is the bond that forms with the person they are caring for.
"You reach a certain level with the guy," Greer said.
Then they die.
Allen agreed, noting he once suffered from depression and saw death as a way out of dealing with the harshness of life and prison. However, by working as a hospice volunteer he now better understands the spiritual side of the end of life.
"It has helped me heal my wounds from the street," Allen said.
"It's absolutely the most humbling experience," said Chad Engro. "I believe we all need spiritual motivation, like Isaac said, it sustains us."
They all agreed they become like family with their patients.
Reality check
Joshua Kaiser decided to become a volunteer after spending time in the prison's four-bed infirmary recovering from knee surgery.
"I watched Rudy taking care of a man with throat cancer," Kaiser said. No matter how grouchy the guy got, Rudy hung in there supporting the dying man.
Caring for each other is crucial, Allen said. A small medical staff that is discouraged from showing "undo familiarity," with the prisoners. Allen said it becomes the hospice volunteer's job to offer compassion.
"We offer a physical touch," Anderson said. "We'll hold hands and hug. We'll write letters and read them letters. You get personal fast."
Certainly, the men agree the deaths are hard to take.
"You develop a relationship. But if you are strong spiritually you know they are will be in a better place," Anderson said.
The volunteers agreed at the end of the day they all have a sense of their own mortality.
"They have matured so much in the hospice program," Webster said. "When they see friends die and they can't do anything about it, this is a way they can help."
Copyright 2018 The Lawrence Journal-World. All rights reserved. This material may not be published, broadcast, rewritten or redistributed. We strive to uphold our values for every story published.