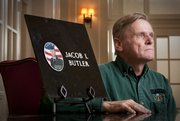 Topeka — A group is starting to get organized to raise funds to build a memorial to Kansans killed in the wars in Afghanistan and Iraq.
"In Vietnam, we waited 25 years" to start honoring veterans, said Harvey Nicholson, of Topeka, who is spearheading the effort. "These guys need to heal."
Forty-seven Kansans have been killed in Iraq and 15 in Afghanistan, according to state officials.
Nicholson, who was instrumental in getting a war veterans memorial in his native Ottawa, said he hopes to locate the Iraq and Afghanistan memorial in either Gage Park in Topeka, or a park in Junction City.
"The whole idea is to help these vets. It's their memorial. We need to stick together and work together," he said.
Nicholson, 63, is a Vietnam War-era veteran who volunteers for Vietnam Veterans of America, which helps veterans obtain benefits.
The Kansas Afghanistan and Iraq Veterans Memorial committee will meet at 7 p.m. Oct. 14 at the Topeka-Shawnee County Public Library, Room 101C (Marvin Auditorium).
For more information, contact Nicholson at 785-550-4215 or at harveynicholson@yahoo.com.
Copyright 2018 The Lawrence Journal-World. All rights reserved. This material may not be published, broadcast, rewritten or redistributed. We strive to uphold our values for every story published.