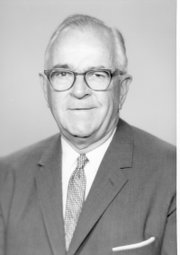 Dolph Simons Sr. built a powerful media company, helped foster a successful Kansas University and consistently worked to ensure a strong community for the Lawrence area and beyond by turning to others.
Always by offering help, not searching for it.
"The prevailing characteristic I remember in Dolph Sr. was that he was a selfless person," said Archie Dykes, a former KU chancellor who counted on Simons for advice. "He wanted others to succeed. And if they were successful, then he'd be successful."
After decades living by such unselfish standards — and after decades of results to show for their time-tested production — Simons is among four inaugural laureates for the Lawrence Business Hall of Fame, sponsored by Lawrence Junior Achievement.
Simons, who died in 1989 at age 84, is being inducted posthumously, but his approach — and the accomplishments it helped generate — promise to live on for generations, helping guide future entrepreneurs and others looking for signs of leadership by example.
"They have someone who is gone but shouldn't be forgotten," said George Catt, a Lawrence attorney and former municipal court judge.
Today Lawrence, KU, the state of Kansas and elsewhere offer indications of Simons' influence and participation. He spent seven years as a board member for Lawrence National Bank, and went on to serve 11 years — including four as chairman — as a member of the 10th District Federal Reserve Board in Kansas City, Mo., which serves seven states.
"Those were the people who made all the fiscal policy," Catt said. "Other people recognized what a driving force he was. He was at the forefront of getting Lawrence moving."
In Lawrence, Simons helped draw major employers such as FMC (now ICL Performance Products) and Hallmark Cards Inc. to establish major operations in and around Lawrence. He had been among the original board members for Lawrence Industrial Development Co., then the economic-development arm of the Lawrence Chamber of Commerce.
Simons had been active for more than 50 years in chamber activities, and served as the organization's president in 1937. The chamber would recognize him with its Citizen of the Years award in 1985.
"He was a driving force in the community," Catt said.
KU connections
Simons worked on behalf of KU, and is among only a handful of people to have both served as president of the KU Alumni Association and of the KU Endowment Association.
Simons became a trustee for the endowment association in 1939, when the organization's total assets stood at $67,000. He would go on to serve on the association's executive committee, provide key leadership in fundraising campaigns and effectively generate donations for projects that continue to serve the community today. When he died, the association's assets had exceeded $220 million.
He led efforts to establish the Spencer Museum of Art on Mount Oread, and helped recruit a prominent professor, Takeru Higuchi, to KU, a move that helped establish the university as a world leader in pharmaceutical chemistry. Today, on West Campus, the Simons Biosciences Research Laboratories building signals an enduring tribute to Simons' unwavering commitment.
"The university will never have a more perfect friend than he was," said John T. Stewart III, another former president of the alumni association and chairman of the endowment association, who considered Simons a father figure. "Everything that was done — and was good — had his name etched on the project, as far as trying to make it better and done in the right way."
Dykes, who served as KU chancellor from 1973 to 1980, described Simons as a man of "enormous integrity," whose advice had proven "exceedingly invaluable" in navigating both the halls of academia and the chambers of the Kansas Legislature.
"He was selfless in his service, and wise in his business acumen and what he recommended for the community," Dykes said.
And Simons' business success was driven by a genuine desire for a better community, he said.
"He was obviously very successful as a businessman, and that success came indirectly, because it seemed to me that he was interested in helping other people achieve their goals," said Dykes, who serves on the board of directors for Midas International, and recently led the transaction committee for PepsiAmericas Inc., a bottler whose outstanding shares were acquired by PepsiCo as part of a larger $10 billion deal. "And if he helped them achieve their goals, then he was rewarded accordingly.
"His focus in the business world was not on Dolph Sr. and what he would achieve in it, but in what others would achieve. He wanted Lawrence to be a better community, and that if it were, he and his own business enterprise would be a better organization."
Media world
Simons started his journalism career early: in 1912, at age 7, as a newspaper carrier.
In 1924, Simons — then 19 — worked for The Associated Press in Chicago, covering major news events including the Leopold-Loeb murder trial, one of the early cases to be described as "Trial of the Century." Later, Simons would become a first vice president for The Associated Press, and would serve on the AP Board of Directors for a maximum nine years.
Simons returned to Lawrence and joined the Journal-World, the newspaper his father, W.C. Simons, had founded in 1891. Simons Sr. would serve as office manager, business manager, editor and publisher of the Journal-World and as chairman of The World Company, and would work with his son, Dolph C. Simons Jr., to establish Sunflower Cablevision in Lawrence and Columbine CableVision in Fort Collins, Colo.
Simons Sr. was "a newspaperman of dedication and distinction," said Louis D. Boccardi, then president of The Associated Press, upon learning of Simons Sr.'s death in 1989.
"He epitomized the values of a local newspaper owner dedicated to serving his community and he leaves a newspaper family that carries on those traditions," Boccardi said.
Today, The World Company endures with a foundation in newspapers and an expanded and evolving reach into electronic media. The Journal-World continues, and its printing presses handle USA Today and a collection of other newspapers and commercial printing jobs; the company also has a magazine division, Sunflower Publishing. Mediaphormedia is the company's interactive and software division, handling projects ranging from site design to complex content and data management systems.
In August, The World Company announced that Sunflower Broadband, which is the successor to Sunflower Cablevision, would be sold to Knology, a publicly traded company based in West Point, Ga.
Today, The World Company is chaired by Simons Jr., and its two divisions are led by his sons: Dolph C. Simons III, newspapers; and Dan Simons, electronics.
The World Company remains a family-owned business, one that had been led for years by a man now regarded as a Lawrence Business Hall of Famer.
"He was a far-seeing person," said Catt, who worked for Simons Sr. for two years before entering law school, and stayed in close contact during the coming decades. "He was a remarkable man, and I consider myself fortunate to have known him."
Copyright 2018 The Lawrence Journal-World. All rights reserved. This material may not be published, broadcast, rewritten or redistributed. We strive to uphold our values for every story published.